urban renewal by URBANUS
a mixed-use building on chengfu road in beijing, china, has been transformed by URBANUS in an extensive urban renewal project that included façade renovation and structural reinforcement. formerly named 'the lanrun building', the renewed 'no.150 chengfu road' office complex will become home to high-tech companies as part of plans to turn chengfu road into beijing's silicon valley.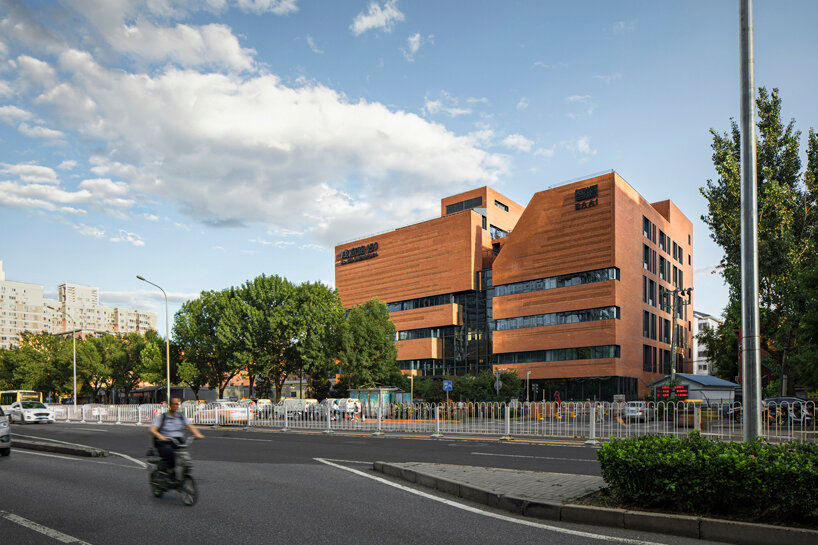 images by UK studio
a healing rooftop garden
while evaluating the existing building, one of the main problems URBANUS found was the lack of nearby public amenities. the architects' solution was to make the rooftop into an occupiable terrace for office employees to socialize or relax during breaks from work.
'all of the design efforts are to make this building a productive space for young professionals. as a healing space, the roof garden is all rendered with bricks in line with the façade,' says URBANUS about the idea behind the roof garden. 'chinese workers deserve to have a better workplace.'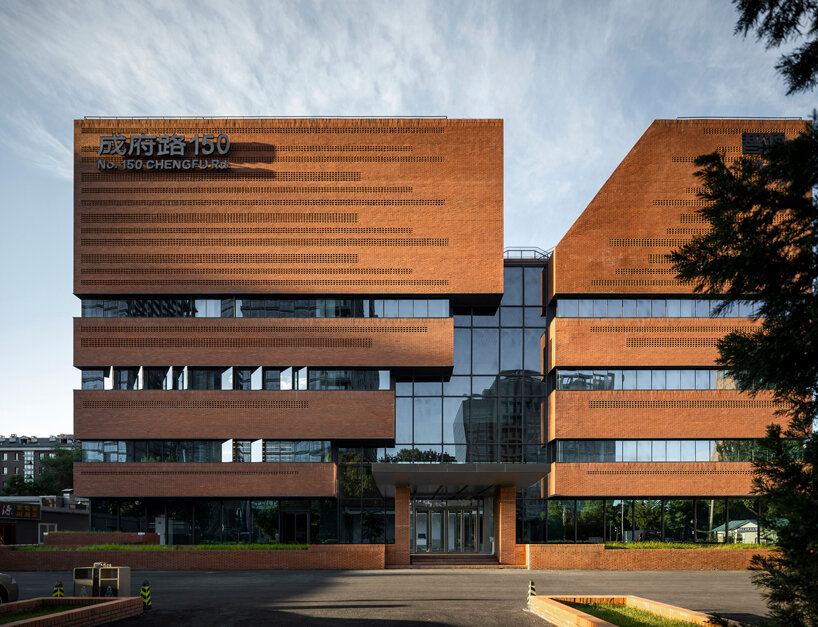 the project involved the renovation of an existing mixed-use building
red brick from lobby to roof
the rooftop garden informed the façade design strategy as URBANUS wanted to connect the ground floor lobby with the roof. a red brick curtain wall system was chosen to connect with the materiality of tsinghua university, which is situated to the north of chengfu road. the brick creates a homogeneous elevational treatment while glass elements and perforations add transparency and rhythm. 
during the construction of the brick wall system, the team faced a 'dramatic moment' when the brick supplier closed down. 'the whole technical inspection procedure had to be restarted,' explains URBANUS. 'because the typical brick system never reaches this height, the construction method needs to be certified by a laboratory. fortunately, the client found a more suitable supplier in yixing with better product quality. besides, the complicated brick pattern requires a full-size mock-up to study during the construction, and the hollowed bricks cause waterproofing issues to be resolved on site.'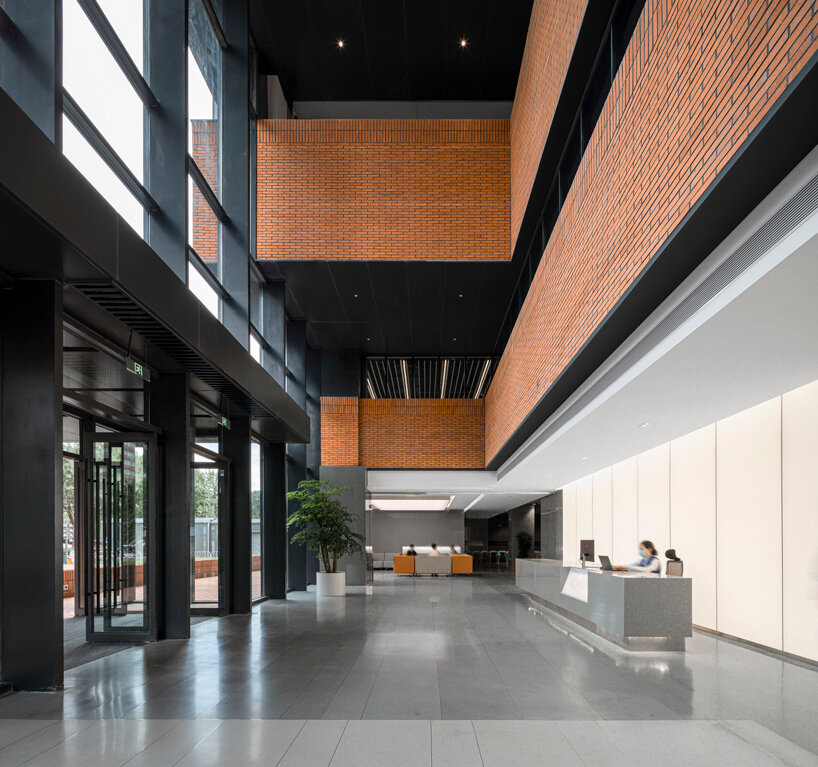 the invereted cone-shaped atrium spans four floors
inside, no.150 chengfu road features an inverted cone-shaped atrium, which was realized by removing a column and cutting away part of the floor slabs from the second to fourth floors. other structural works included adding a steel truss system to reinforce the sunken roof garden, and creating a double-height space on the first floor to make way for a large conference hall, which turned out to be a particularly complex structural change.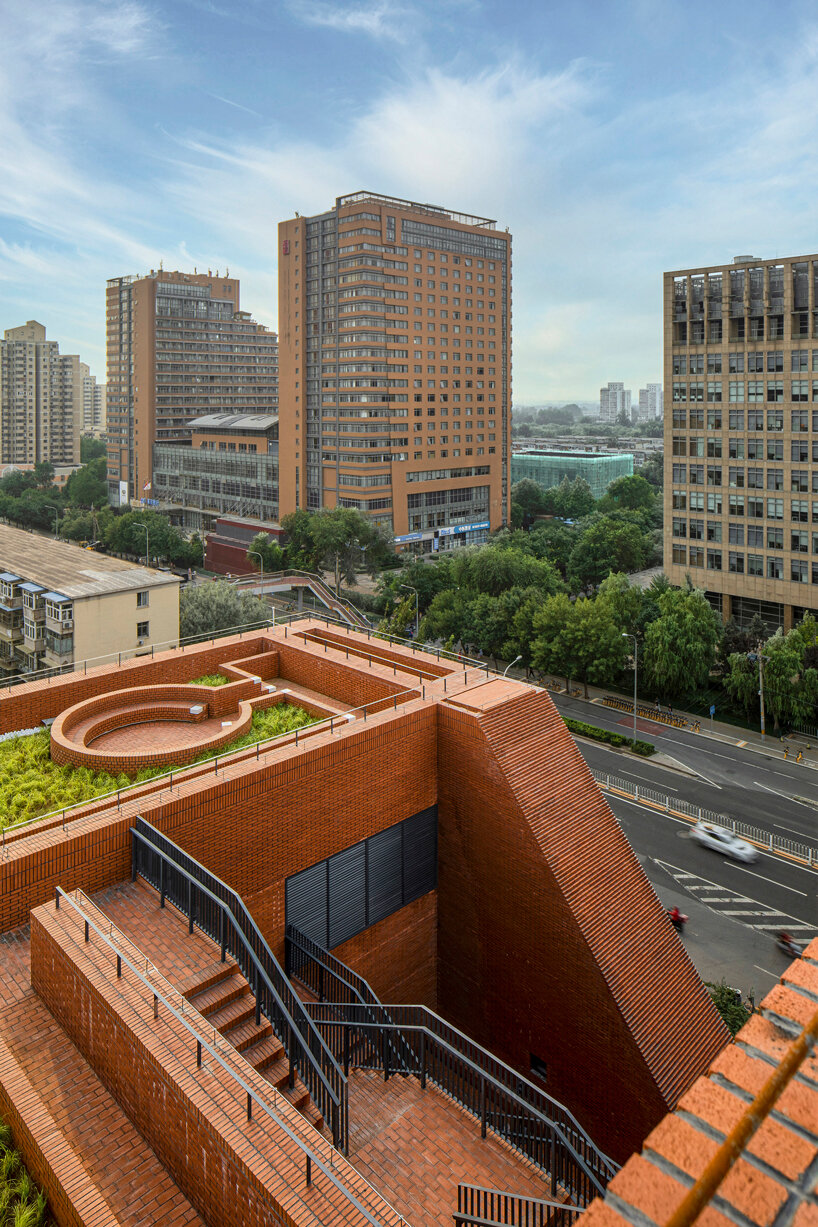 the brick elevational treatment continues onto the rooftop terrace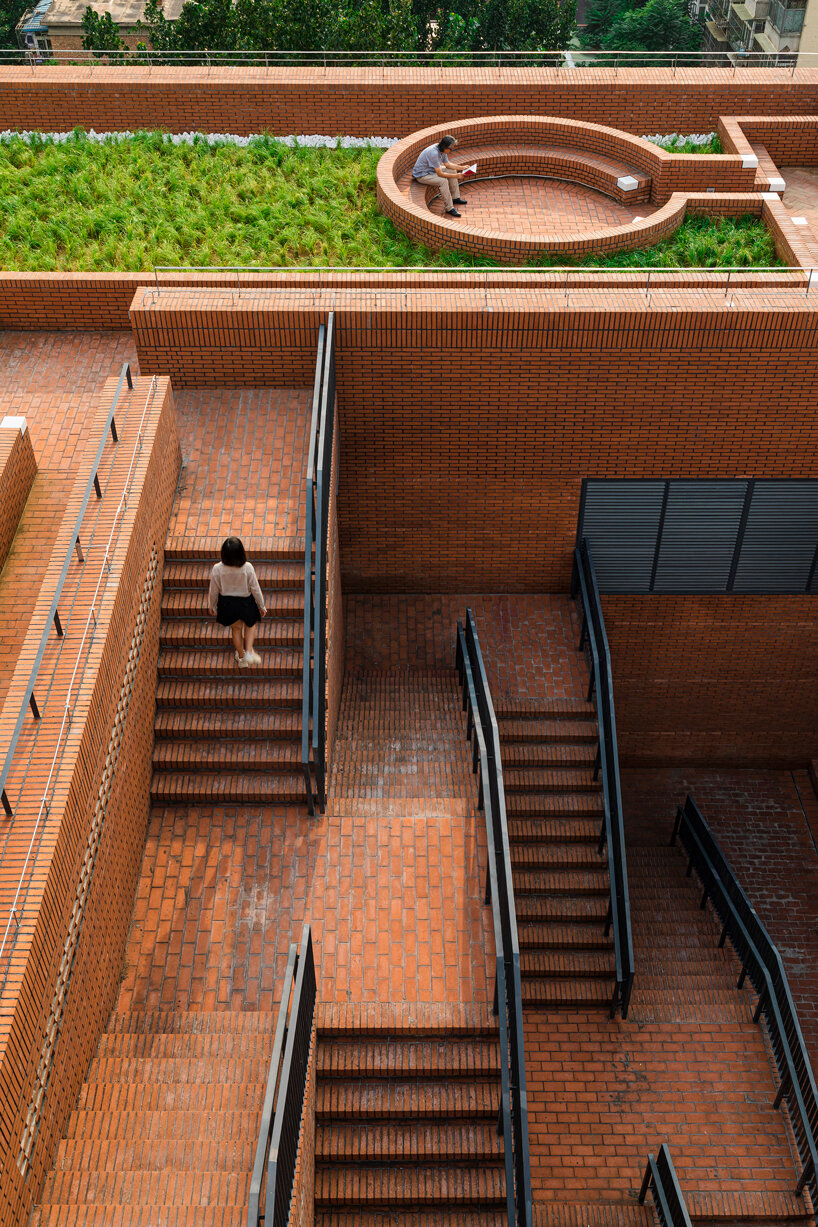 office workers can take a moment to relax on the rooftop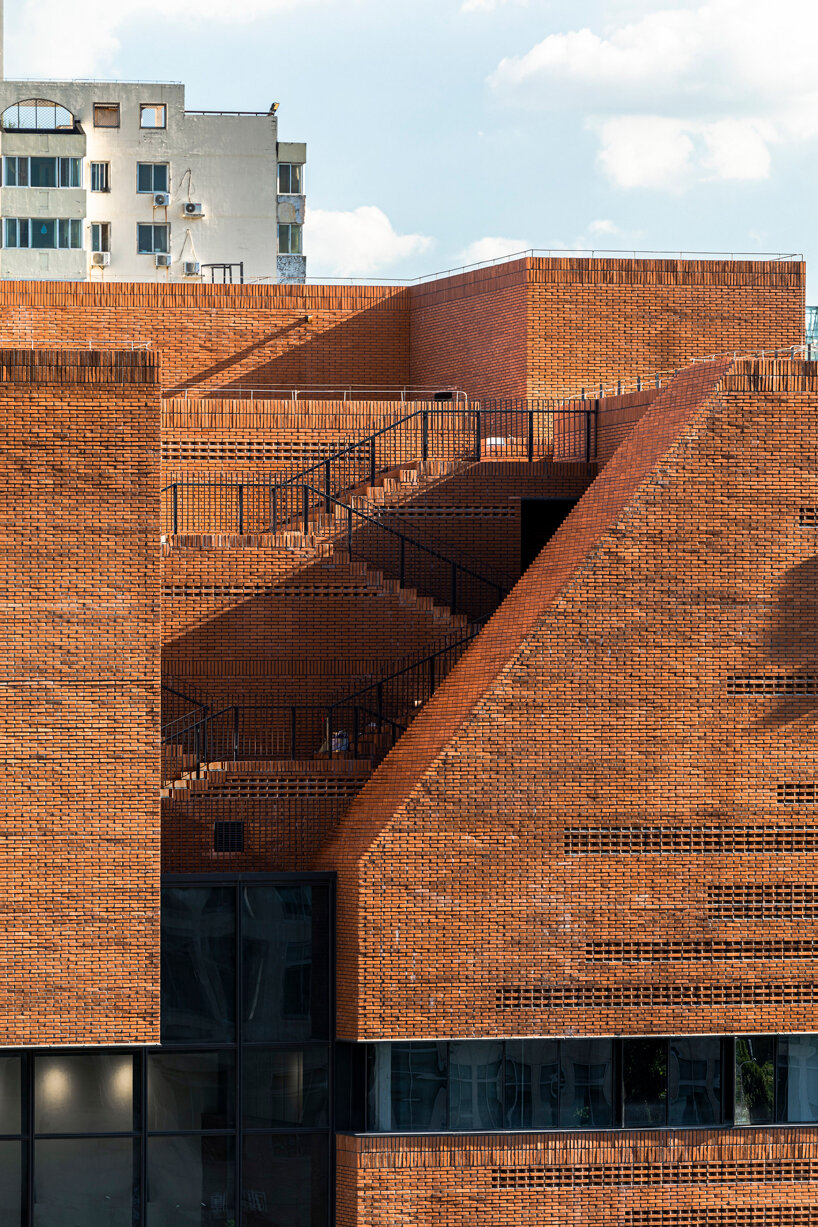 the rooftop intervention required steel truss reinforcement
1/21
project info:
name: no.150 chengfu road
location: haidian district, beijing, china
client: beijing haidian real estate group co., ltd
architecture design / interior design (public space) / landscape design: URBANUS architecture & design inc.
principal architect: wang hui
design team: wang yutong, zhang fujun, yao yongmei (technical director), chai bingjiang, li lin, zhao ziyu, zhang li (architecture), wang kun, li gang, gao zixu (landscape), xu lili, jiang zhongyu, wang lei (interior)
construction design: shanghai united design group co., ltd., liu xu, zhang xiaolong, mao yanli (architecture) yu yongzhi (structure) tian kun, zhang lichao, shi yuhong, wang meng (MEP)
interior design (office area): andong hongfang architectural design consulting (beijing) co., ltd., jiang xiaoyu, ROMER, lu yong
lighting design: beijing yuanzhan lighting design co.,ltd., xu bing, liu xianyu, liu yong
structural consultant: H&J international, pc
signage design: wuyong art & design
design period: 2019-2020
construction period: 2019-2021
site area: 475 sqm
built area: 1,044 sqm
photography: UK studio
URBANUS adds a brick curtain wall and roof garden to beijing office building