A multi-tasking feature, topiary is perfect for creating a strong punctuation point in your garden planting scheme, for introducing low shapes to edge paths and to add definition to containers. 
If you love the look of clipped evergreens, choose lollipop bay trees, smart box topiary balls and pompom conifers as topiary ideas to add strong shapes that help to define your outdoor space. 
Topiary ideas are a low maintenance form of gardening that looks good all year round, so a good choice to include as part of your garden ideas.
Topiary – ideas and expert advice
The rules for topiary are simple: decide on the height and shape you want, and get clipping.
Choose shrubs with small leaves and thick dense foliage such as privet. The more you clip, the smaller the leaves become, making it a good choice for defining a sharp outline. 
1. Add topiary in different shapes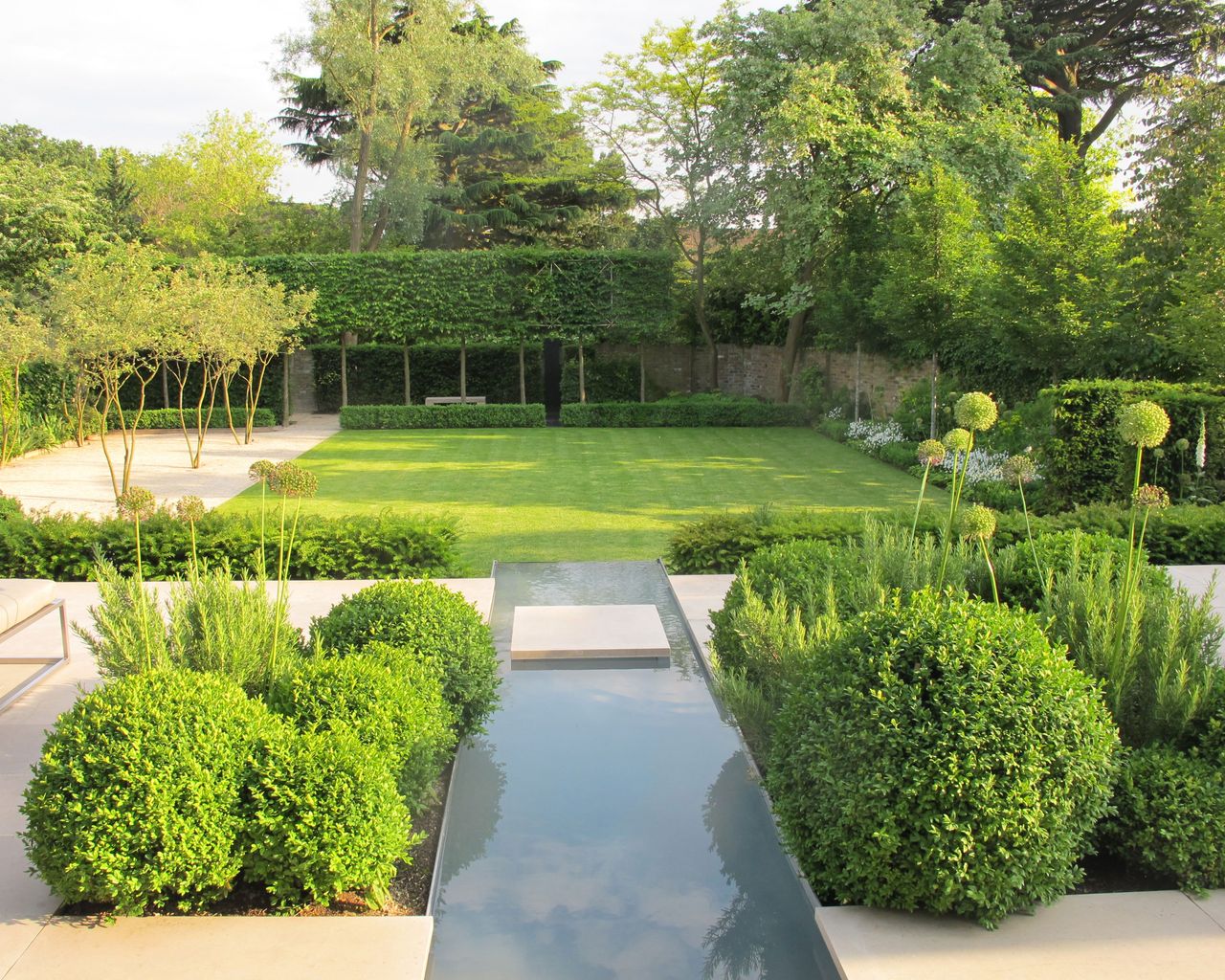 Cube shapes are one of the easiest topiary shapes to do and are good for dividing different planting areas in the garden. Small pebble shaped topiary is also popular for edging paths.
In this garden design by Charlotte Rowe topiary balls contrast with square box hedging.
Topiary suits a repeat design and works really well if you keep things symmetrical on either side of the garden, which can also create the illusion that a space is bigger than it is. 
There are many options for shapes and styles – have some fun creating shapes that suit the style of your backyard, whether formal or more informal and whimsical. The shapes can come to the fore in a winter garden caught in a hoar frost.
'Topiary works on all scales, from country estates to tiny town gardens. Their ability to transform a space, often simply by a single presence, is highlighted in small gardens, where their leaves add interest and shadow during the day and create drama at night, especially when paired with lighting,' says designer Kate Gould. 
'Yew, buxus and ilex are tough plants that can grow into large trees but are equally happy clipped into hedges or shapes that can be both traditional and contemporary in feel,' Kate adds.
2. Enhance entrances with topiary in containers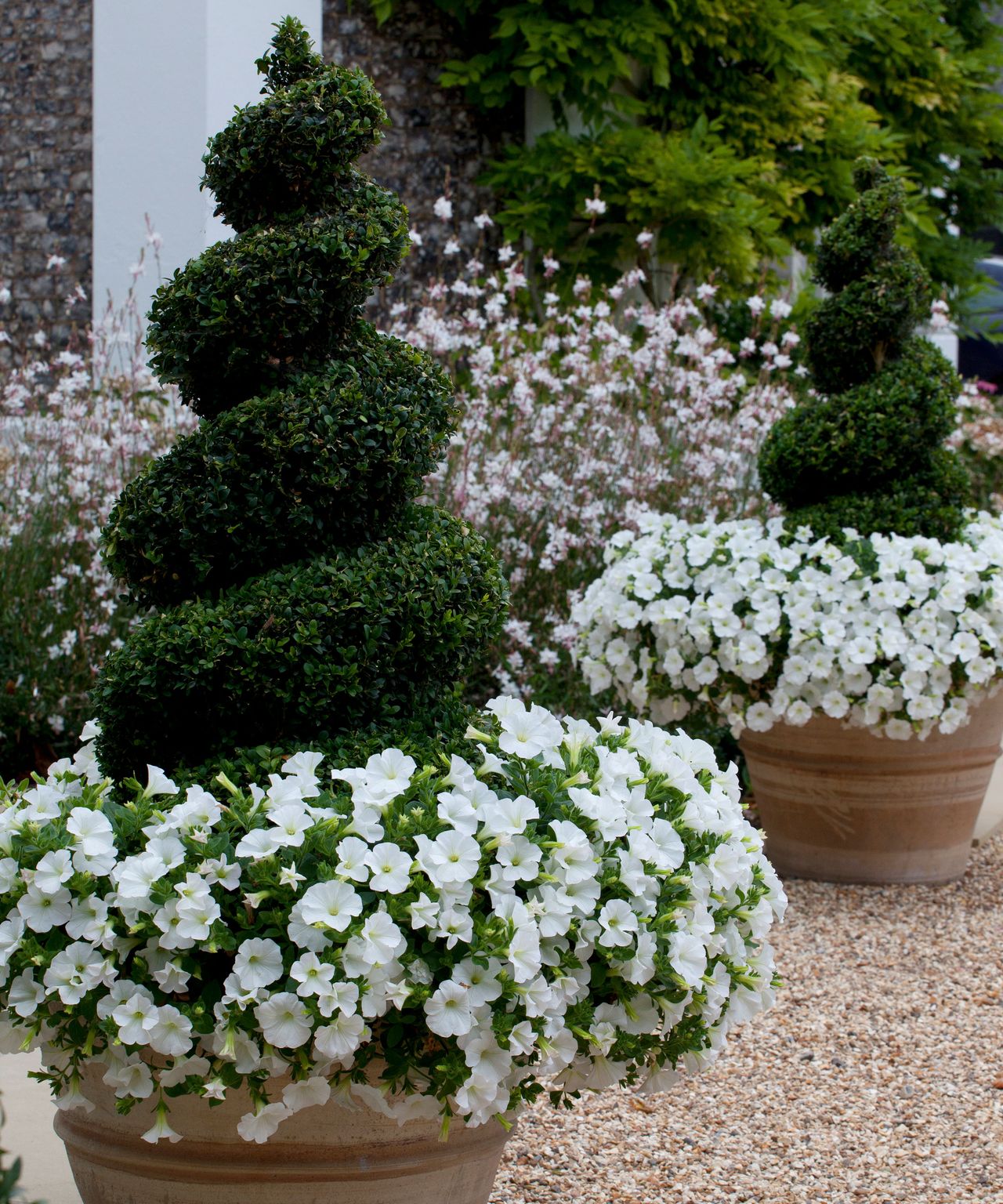 Smartly clipped evergreens are a great choice for enhancing entrances such as gates, doorways and porches. 
In winter topiary adds much needed drama, punctuating a space when the rest of the garden has little to offer. 
Containers featuring clipped topiary designs are also a good choice for adding interest to a small space. Another plus is you can switch them around to keep things fresh. They can be underplanted with some of the best winter plants for pots and borders for added color.
Topiary in a planter can do so much more for a small space than a group of less impressive specimens. If you're time pressured, they add impact without hours of maintenance.
3. Include topiary among naturalistic planting for a modern look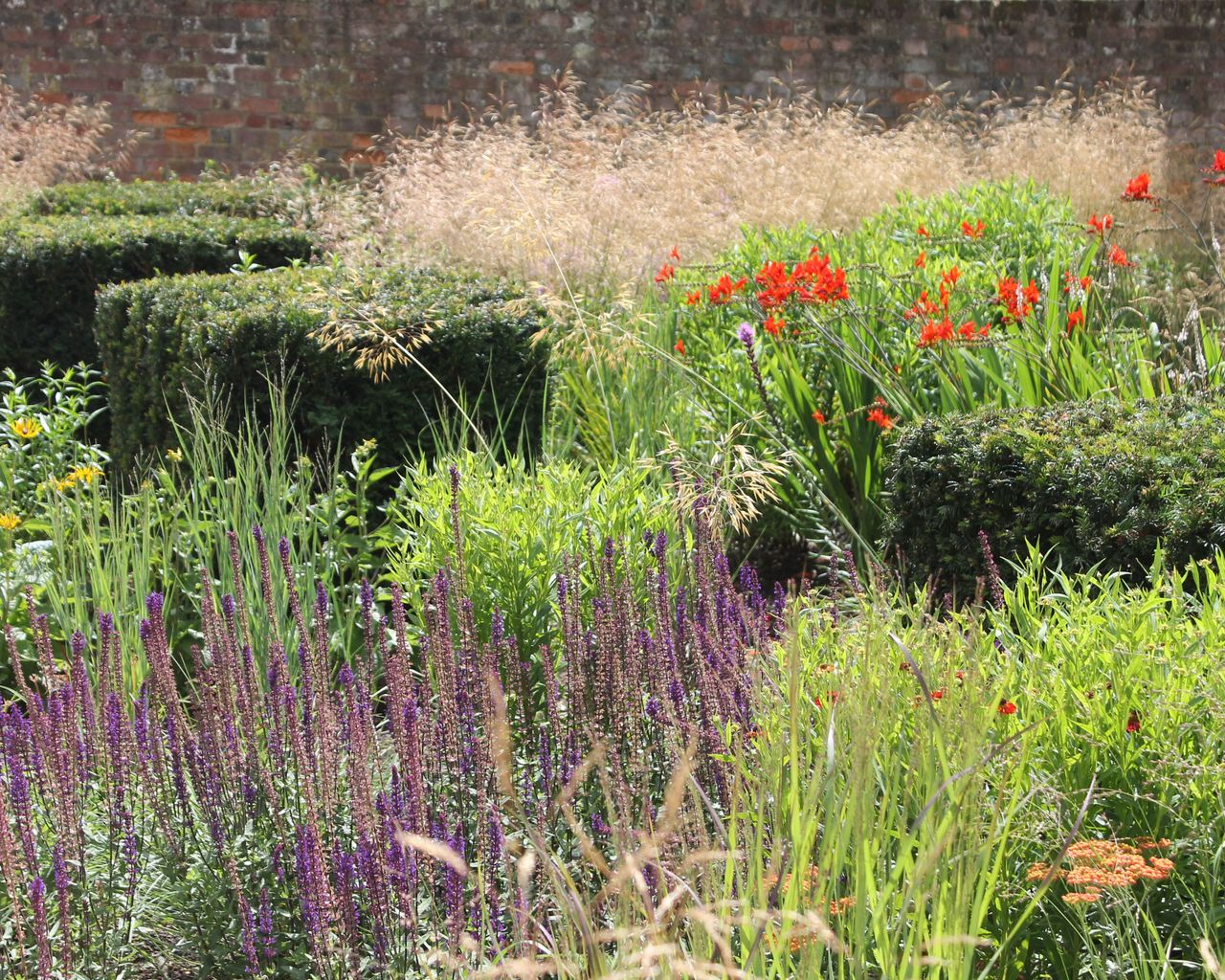 Traditionally, topiary has been used in classical formal gardens in the form of cones, topiary balls and standards. 
'But for a more modern look that contrasts sculptural forms with sweeping planting, try including topiary as a punctuation mark within a tapestry of naturalistic herbaceous perennials,' suggests Jeff Stephenson, head or horticulture at Bowles & Wyer.
For example, 'you could incorporate different sized yew domes throughout a carpet of hakonechloa,' Jeff adds.
'Defined and sharply clipped forms deliver year-round architectural interest that we contrast against seasonal perennials and grasses,' explains award winning garden designer and landscape architect Gavin McWilliam of McWilliam Studio.
4. Create structure with topiary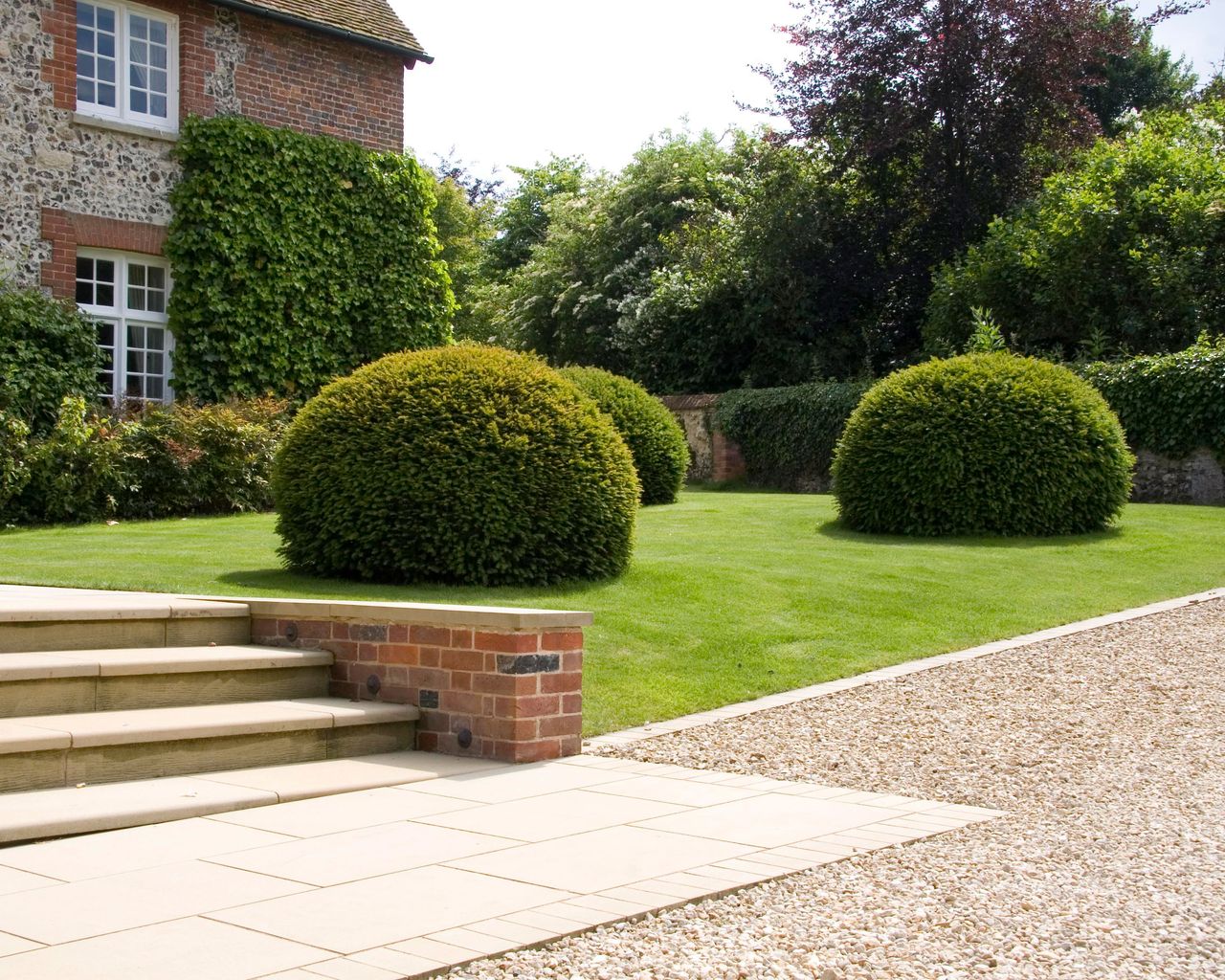 Often referred to as the bones of the garden, the evergreen structure can be the starting point for creating a garden design once the initial layout has been decided.
'We regularly include topiary in our designs to provide structure and rhythm in our planting,' says Gavin McWilliam. When combined with other evergreen trees for gardens , topiary can create a strong backbone for the garden.
'The majority of the topiary forms we work with are the evergreens taxus, pittosporum and Prunus lusitanica. However, we also like to work with beech and hornbeam when contextually relevant,' Gavin adds.
5. Use topiary to add winter interest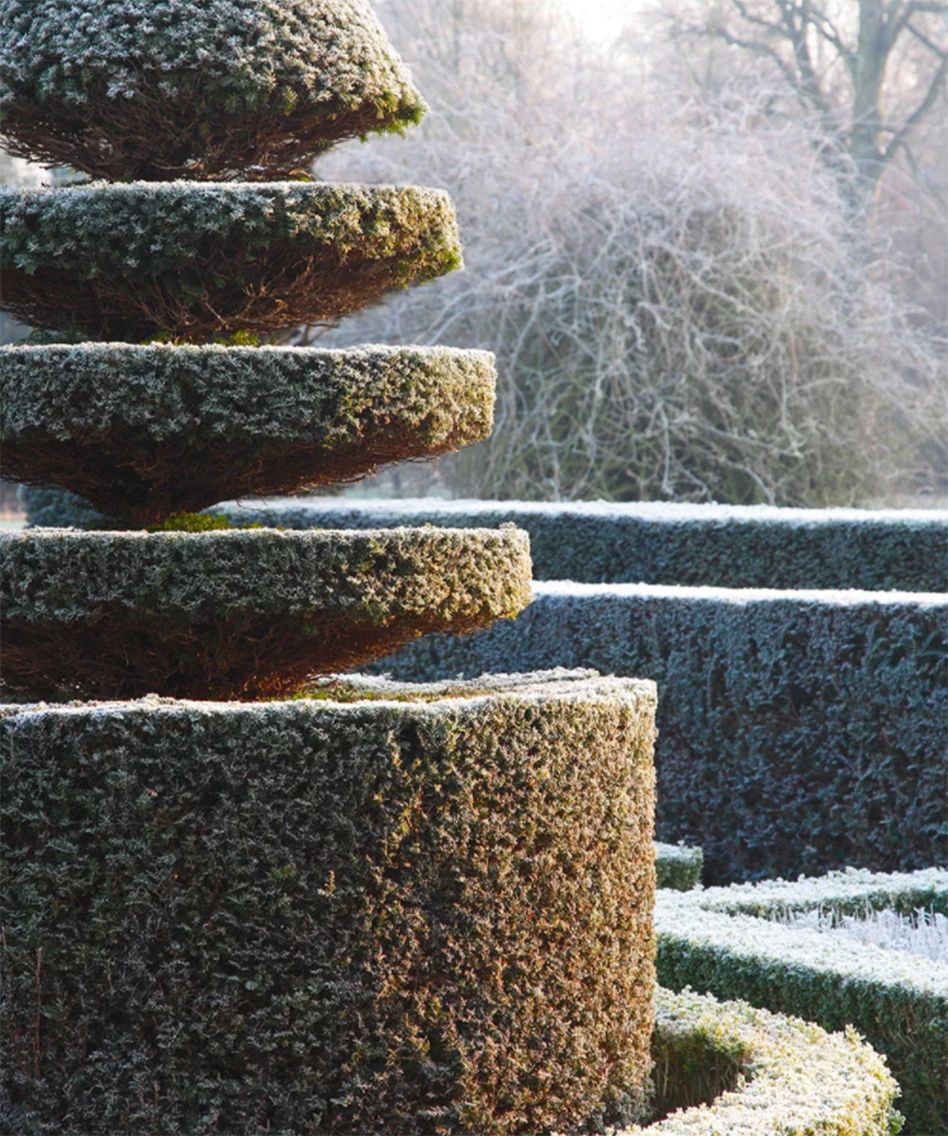 However abundantly we might plant out backyards, the reality is that for many months of the year the garden relies on evergreens for structure and form.
'Topiary really comes into its own in the quieter months of later winter and early spring when the herbaceous planting is cut back, and the new shoots of spring are yet to appear,' says Gavin McWilliam.
When designing a garden, it's important to think about seasonal greenery and topiary is a great choice as one of your winter garden ideas. 'As well as formally clipped hedges and topiary balls or other shapes, consider creating more informal 'lines' of plants with sarcococca, osmanthus, or a soft pillow cloud of Lonicera Pileata Maigrun, which is excellent for ground cover,' explains garden designer Lee Bestall. 
Timeless classics such as taxus and buxus, which both respond well to regular clipping, offer structure and mass, as well as being perfect paired with warm white fairy lights.
6. Create a knot garden with topiary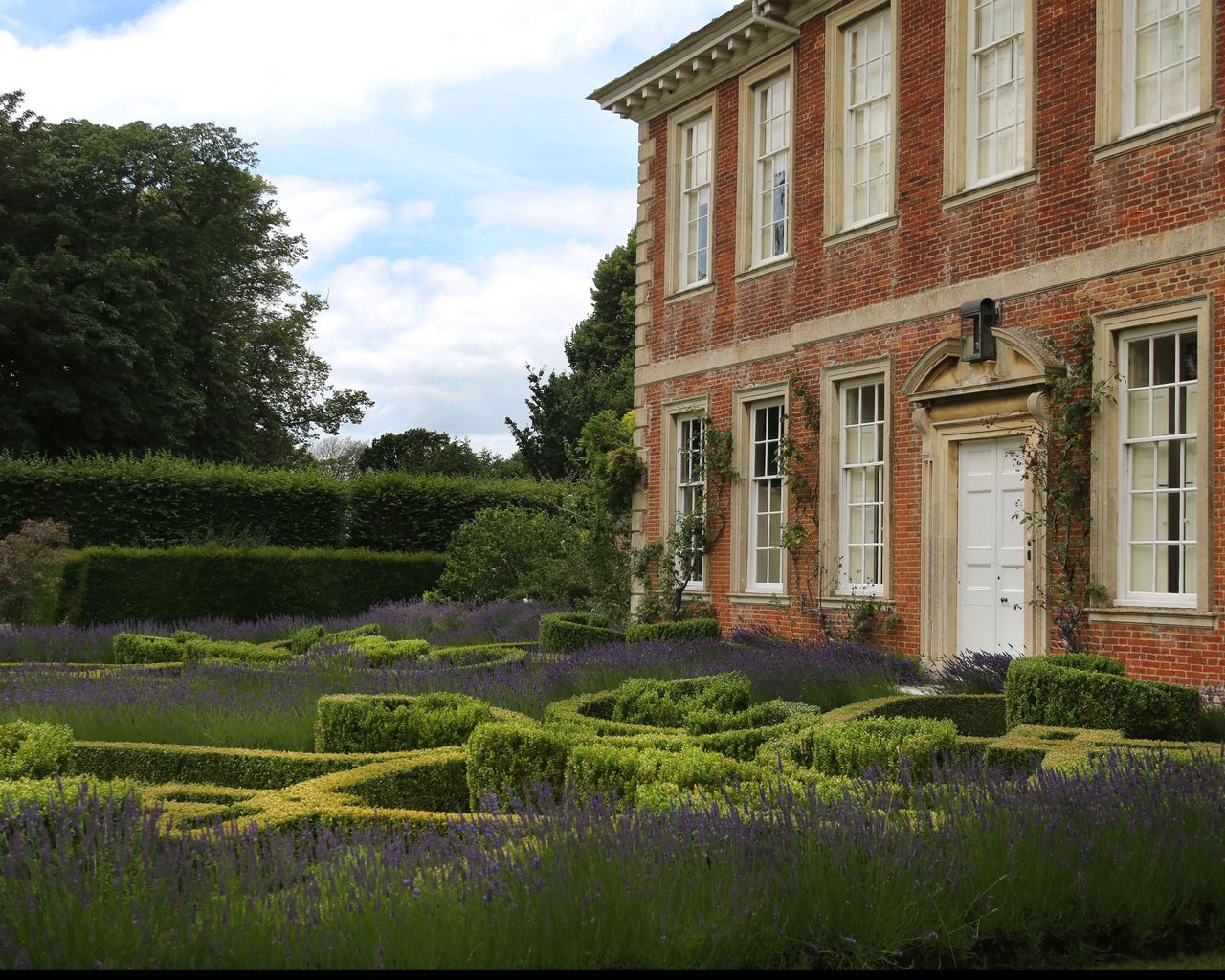 'Using sculpted evergreens is a timelessly elegant way to provide focal points and frame key views around the garden,' says garden designer Richard Miers.
'I use topiary and evergreen plants and hedges as the backbone to my designs. It can provide the framework upon which other elements of the garden are then subsequently applied,' he adds.
In this garden design, Richard has used buxus and lavender to create a knot garden that frames the entrance to the house and reflects its symmetry. The topiary enhances the entrance, creates a repeat design and makes the space look bigger.
7. Introduce cloud pruned topiary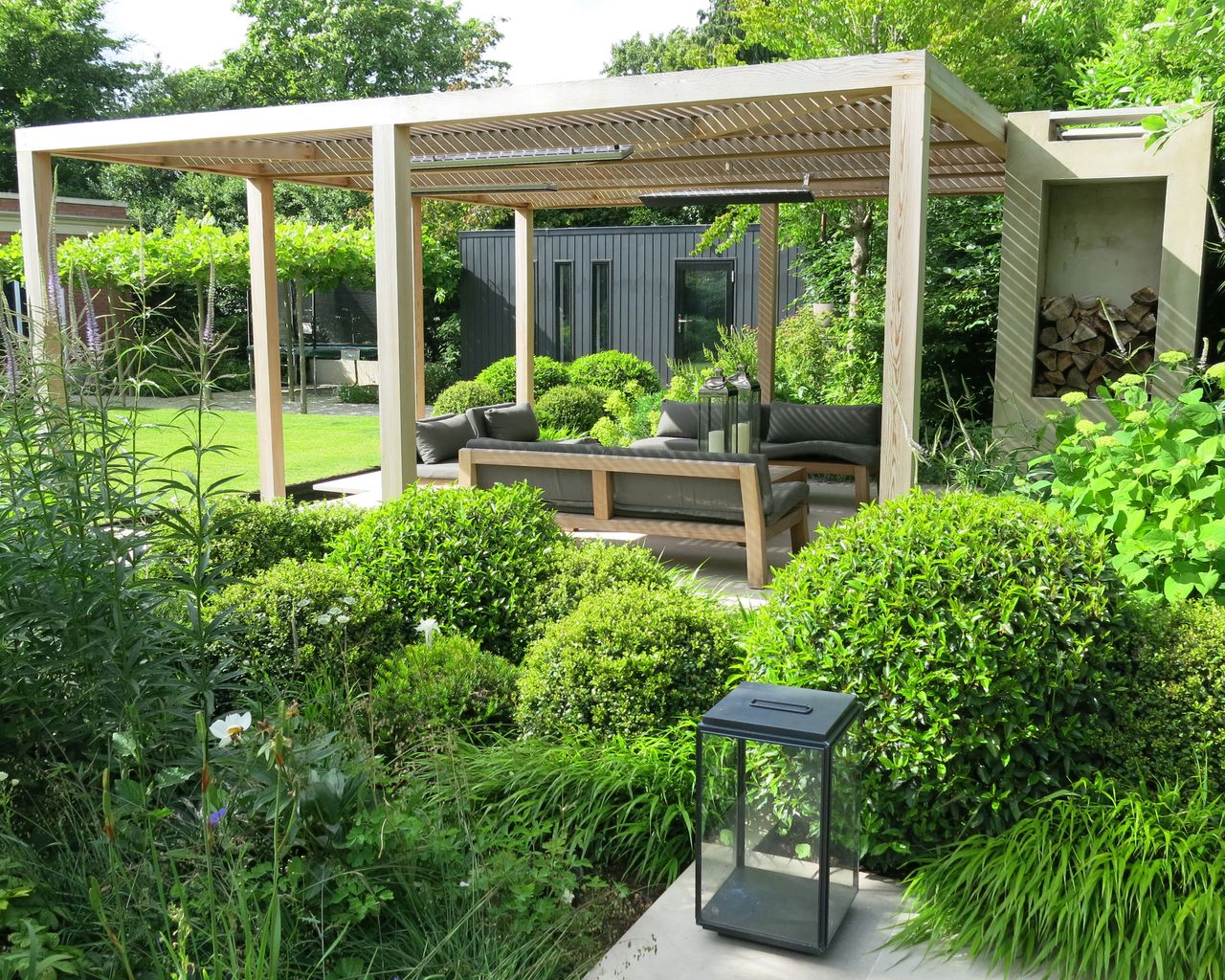 'Cloud pruning' is where continuous mounds of shrubs are pruned into softly domed topiary balls that look like undulating clouds. These are interspersed with other plants such as low grasses, ground cover and even small perennials.
'We use 'cloud pruning' in many of our gardens, small and large,' says designer Charlotte Rowe.
'This style of planting provides structure while still allowing seasonal interest and color,' she adds.
In addition to the smaller leafed plants that are commonly used for traditional topiary, large leafed plants including copper beech, Pittosporum tobira 'Nanum' and Prunus lusitanica can also be used. 
'Copper beech is particularly attractive as the leaves are a wonderful russet color in winter,' explains Charlotte.
8. Add height with clipped specimens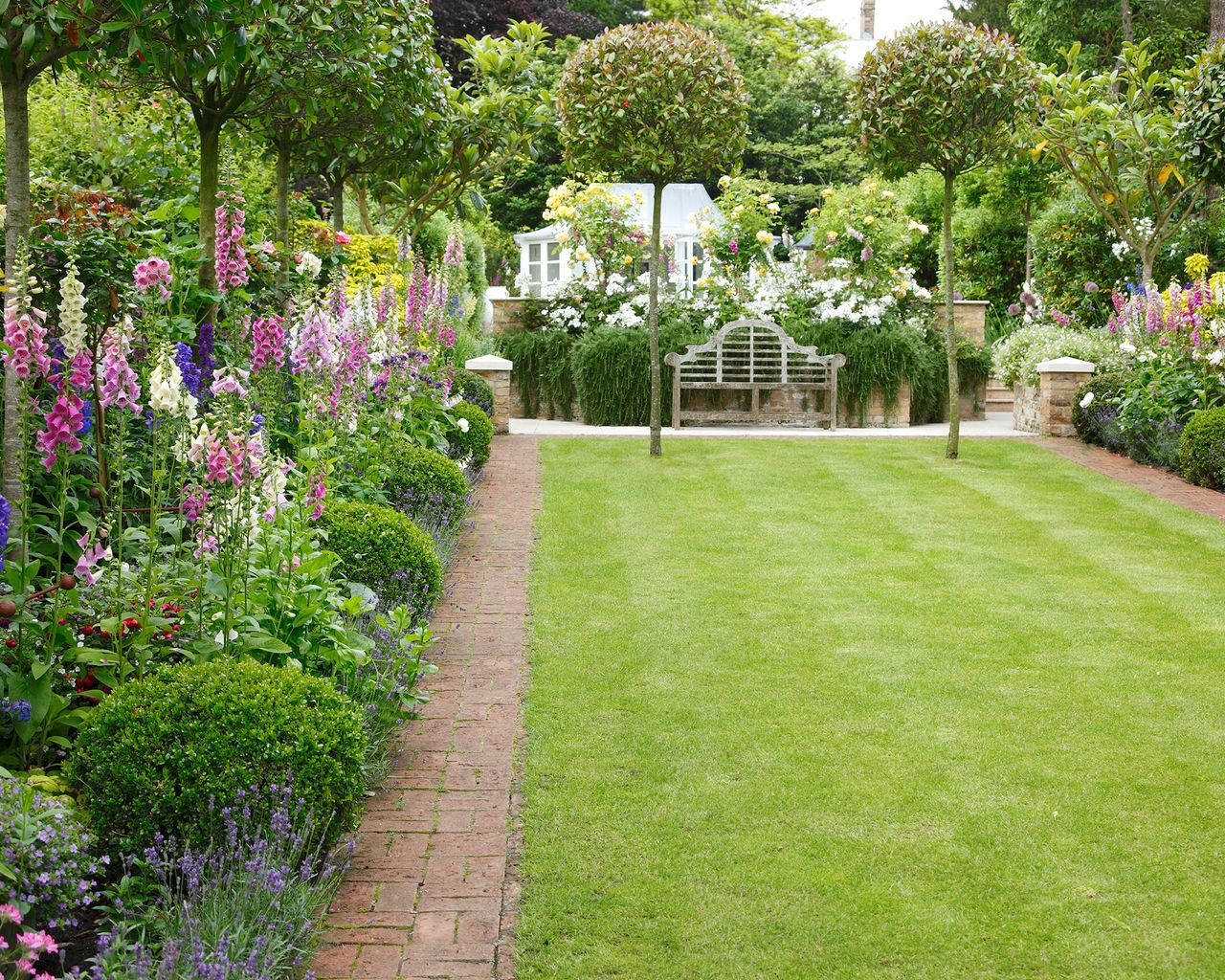 Evergreen trees can be neatly clipped like the ones above into 'lollipop' shapes to create height, screening and eye-catching shapes on a garden's boundary – or planted to create a division between one area of your backyard and another. 
9. Break up a lawn with topiary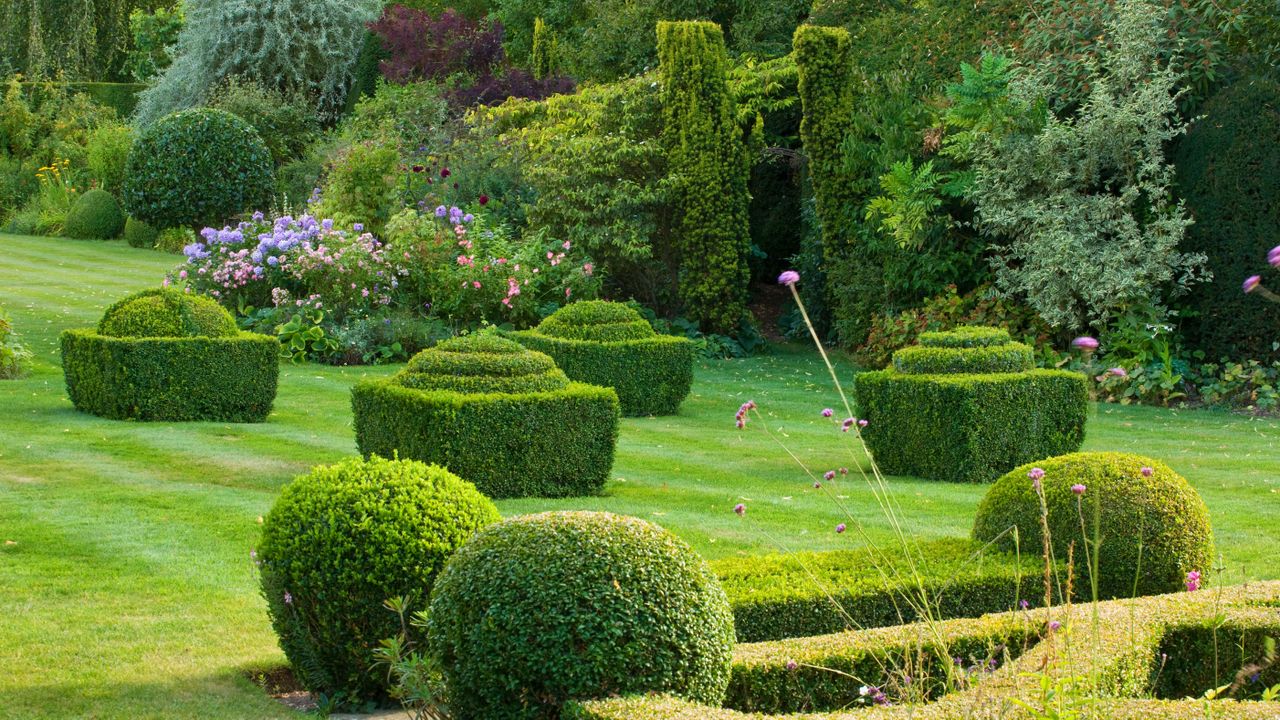 Topiary needn't be in a flower bed or lining a path – it can be used to make a large expanse of grass more interesting. Formal gardens of historical palaces, such as Henry VIII's Hampton Court Palace, often feature large topiary dotted across lawns, creating grandeur and structure. Of course, at home, you can create the same effect on a much smaller scale.
10. Frame a view with topiary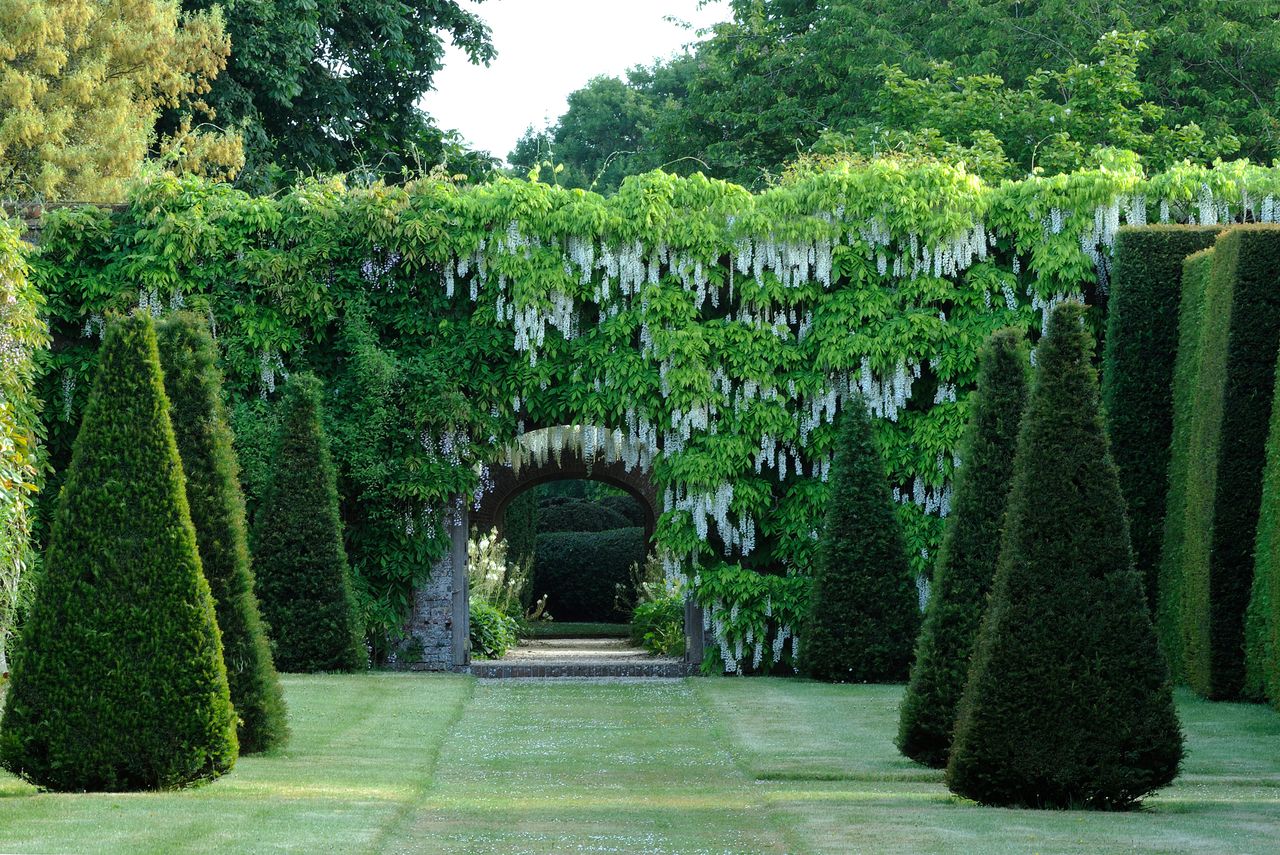 The use of topiary to frame a view can be highly successful. Low topiary balls can be very successful in small spaces, but in larger gardens, tall, conical topiary can create a real sense of occasion.
What does the term topiary mean?
The term topiary means when trees or shrubs are trimmed, pruned and trained into ornamental shapes.
There are many shapes, from simple topiary balls and mounds to squares, swirls and more elaborate designs.
What plants are suitable for topiary?
Plants that are suitable for topiary are generally evergreen or semi-evergreen shrubs with smaller leaves. These will create a cleaner and more tightly clipped finish, which looks good all year round.
'These plants need to have been cut back hard early on in their lives to produce a multi-stemmed framework to sculpt,' advises explains Jeff Stephenson. 
Some good examples of plants to use for topiary that Jeff advises using include: 
Buxus
Euonymus japonicus 'Microphyllus'
Euonymus japonicus 'Jean Hugues'
Euonymus japonicus 'Green Spire'
Ilex crenata
Pittosporum tenuifolium
Taxus
How do you make a topiary?
To make topiary, 'create a clear picture in your mind about the form you're going to create, then see yourself as a sculptor, gradually moulding it into shape,' explains Jeff Stephenson, head or horticulture at Bowles & Wyer. 
'Adopt the practice "measure twice, cut once'" when it comes to topiary: look, cut once, then look again,' he adds.
Timing is crucial too. 'Allow new seasonal growth to expand, harden up and darken as the cuticles on leaves thicken. It's a far healthier approach for the plant, rather than nipping off every shoot as it emerges.' says Jeff.
The more you invest in your tools, the better quality you'll get. But it's also important to consider the ergonomics and comfort. 
'If a tool feels comfortable for you, then this will show in the quality of your work. Short-handled shears are useful for close work, whereas long-handled ones give you reach on larger plants. Keeping your tools clean, sharp and lubricated is also critical. Sap will impair your blades over time, so wipe them regularly with either disinfectant or detergent,' advises Jeff.
https://www.homesandgardens.com/advice/topiary