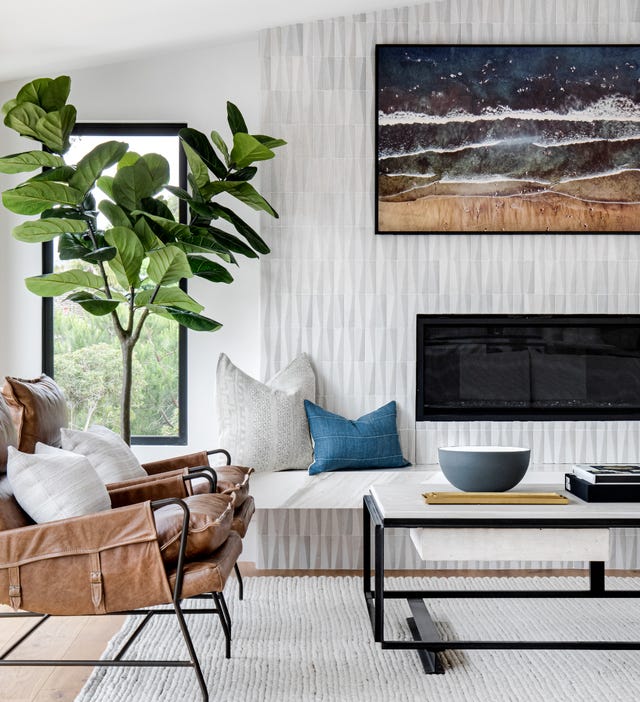 Chad Mellon via Lindye Galloway
Home design trends are constantly changing, and one never really knows what the trends will be until we're in the thick of it. Luckily, we know a few tastemakers, who have an insight into what the future holds in terms of home design. From bright interiors to how your bathroom is going to change, here are five design trends to expect for 2022.
Bright Walls
Say goodbye to boring — boring colors, that is. "We're seeing a resurgence of very colorful, patterned wall coverings in all areas of the home and no longer being reserved for small spaces," Jessica Lagrange, principal at Jessica Lagrange Interiors, says. If you're thinking of a specific bold color, Kim Armstrong, owner and principal designer at Kim Armstrong Interior Design, has a color prediction: red. "Red is a color that we haven't really seen used since the nineties, so I think it will be so great to see how this color is re-interpreted for this generation," she says. And they're not just any red, but "happy reds," she notes, so think of hues such as bright cherry red to red-orange. If bold and bright isn't your preference, you can expect warmer tones, "but not your basic beige," Lindye Galloway, founder and chief creative officer at Lindye Galloway Design Studio + Shop, says.
Bringing the Outdoors Inside
As much as folks are getting back out there amid a pandemic, many are still finding ways to reconnect with nature in ways that will see people bringing a piece of the outside indoors. Joshua Smith, of Joshua Smith Inc., predicts we'll see a lot of natural materials being brought inside. "Warm tranquil color palettes combined with bold patterns and layered textures, like grasscloth wall coverings and natural stone architectural details, will reign supreme as we pull nature's serenity indoors," he says. Lauren Lerner, founder and principal designer at Living with Lolo, agrees by saying that travertine and other natural and organic textures will find their way indoors, with green being a potential motif.
Multifunctional Rooms
It only took about two years, but people might finally be adjusting to working (and learning) from home. Now it's time that homes officially make the change to being a home, work space, classroom, etc. "We will start to see more home offices and study areas take more center stage in the home," Mark Lavender, principal designer at M. Lavender Interiors, says. "I have clients with a large family that have placed desks all over their homes as multiple people are learning online and working from home." Living room spaces will be tailored to work as both a living room and working room, and even bedrooms will start to be outfitted into home offices — that is, if they haven't already.
Kicked in the Brass
Brass-accented bathrooms have become all the rage lately, and its ubiquity is probably what's pushing it out the door in 2022. "Antique brass has had its fair share of the spotlight in bathrooms, but now there's a new kid in town," Smith says, making the prediction that matte black fixtures will be in the future of bathroom designs.
The Kitchen
If you didn't already know, kitchen appliances are getting smarter. Hell, you can send texts from some of these new refrigerators. Lerner expects more people to embrace technology in the kitchen in 2022, which means you might soon end up with a kitchen like that seen in Disney Channel's "Smart House." Aside from kitchens that are smarter than you, many of our interior designers expect white, sterile kitchens to go, with Lavender going as far as saying they've "reached their peak." If you're wondering what colors to go for, like the rest of the house, the kitchen is going bright and bold. "We have seen cabinet colors evolve from white to light gray to navy, and I think we will be more adventurous with color," Lavender says. "Green marble is poised to be a top trend. We are seeing more and more of this. I had a client want to go with verde marble last year for her new kitchen."
This content is created and maintained by a third party, and imported onto this page to help users provide their email addresses. You may be able to find more information about this and similar content at piano.io

https://www.gearpatrol.com/home/a38506275/home-design-predictions-2022/