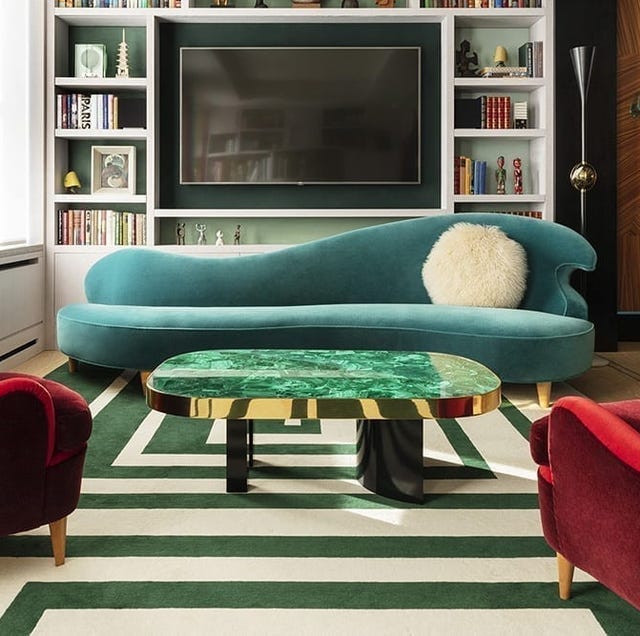 The Invisible Collection
Who says you have to travel to pick up a souvenir? One secret to filling our homes with chic, unique finds is sourcing from shops, brands, and artisans around the world. But it doesn't have to require booking a flight—in today's ecommerce world, many far-flung favorites can be shipped right to your door. We asked our skilled editors for their favorite international brands…and the list is sure to build your bucket list of dream locations.
And while these aren't all available for next-day shipping, patience is a skill we've honed in on to find the best gems from around the world. Sure, it's a bit of a wait, but the beautiful finds always prove to be worth counting down the days. Plus, a little wait is well worth it to bridge the gap between skilled artisans, impactful brands, and cultures. Whether you're an avid traveller, a novice nomad, or looking for things no one in your friend group will have, it's time to elevate your style with something new! Here are our favorite stores that prove distance makes the heart grow fonder.
Advertisement – Continue Reading Below
1
NUDE
Founded in Turkey, this glassware company elevates your bar cart to the highest standard. The brand creates stunning glasses that are delicate in appearance, but strong in durability through ion shielding technology.
Ghost Zero Tulip Red Wine Glass, $124 SHOP NOW
2
Yellowpop
Customize unique LED neon sign lights to bring a pop of color into your space that will playfully brighten up the room. Based in the UK, Yellowpop collaborates with your favorite artists and designers like Jonathan Adler and André Saraiva to create iconic pieces that will fill your home with joy.
Winking Girl by Emily Eldridge, $890 SHOP NOW
3
The Nopo
Here's where you can find shoppable gems from Mexico and Morocco! The brand focuses on preserving heritage, high-quality fair trade items, and bridging the gap from artisan to consumer.
Nachig Estela Embroidered Cotton Blanket, $269SHOP NOW
4
Ardmore
According to our Digital Director, Hadley Keller, "I would maybe upholster my entire house in Ardmore fabric if I could—and fill shelves with their ceramics." Conceptualized in Kwazulu-Natal province, South Africa, the brand has launched the work of over 70 African artists to a global stage.
Cheetah Kings Mist, $50 SHOP NOW
5
Simon James
Driven by simplicity and minimalism, the craftsmanship of this New Zealand-based brand is worth the wait. The designs are current while pushing the envelope on what the future of interior design will be. Shop signature pieces from furniture and lighting to homeware and accessories.
Hashira Table Lamp by Norm Architects, $1028 SHOP NOW
6
Wicklewood
For lovers of prints, colors, and travel—Wicklewood products follow the journey of two founders who offer fun takes on British country style. From tablescapes filled with traditional block printing to reimagined twists on Blithefield, there's clear respect and celebration of artisans around the world. Their store is sure to bring a smile to your guests at your next dinner party.
Dots and Stripes Ceramic Indigo, $61 SHOP NOW
7
The Moon Jar
The Moon Jar curates breathtaking stoneware carefully handmade wonders from Korea, ranging from vintage to contemporary. The brand was founded by Korean-German couple Hwon Kang and Philipp Schulze, the online store is filled with one-of-a-kind ceramics handcrafted by Korean ceramicists. The brand was inspired by, Joseon, (Korea's earliest known earthenware) – a porcelain Moon Jar as a reflection of a full moon.
hacocco Flower Embroidered Box, $85 SHOP NOW
8
Laborotorio Paravicini
You won't be able to hold in your oohs and ahs when feasting your eyes on these dreamy handprinted plates shipped from Milan, Italy. Hidden in a courtyard in the historical center of Milan, this laborotorio is where tabletop magic is made.
Jungle Elephant, $75 SHOP NOW
9
Dar Leone
Designer Isatu Funna is inspired by her native Sierra Leone to create lavish home accents and furniture. West African designs can be found in a wide array of cushions, tabletop, Yoruba throne chairs, and more. While the store is nestled in the United Kingdom, it offers an authentic global perspective.
Ronko Hibiscus Seafoam Round Tray, $34 SHOP NOW
10
fomu
fomu captures the art of living with ease—creating simple, but beautiful furniture. The Melbourne-based studio cleverly blurs the line between art and design, bringing functional masterpieces to your doorstep.
L'art Lounge Chair, $2,194 SHOP NOW
11
Eva Sonaike
With textiles bringing the beauty of African luxury, this London-based company creates lovely home textiles and soft furnishings with a distinctive and vibrant West-African aesthetic. The company's ethos 'Bringing Color to Life' shines through its vibrant array of cushions, fabrics, rugs, and furnishings.
WEWE Cushion Blue, $102 SHOP NOW
12
Malaika
Experience luxurious Egyptian linens at your fingertips with Malaika. Their products are filled with intricate hand-drawn thread work and high-quality fabrics. Their mission also focuses on teaching hand embroidery to local women, empowering them with skills and economic standing.
Bee Bedding, $330 SHOP NOW
13
Svenskt Tenn
Home to Josef Frank's legendary fabrics and tons of wonderful finds, this Swedish brand is a design lover's must-have. You can score sustainable, high-quality treasures for every corner of your home.
Vase Dagg, $520, SHOP NOW
14
Nicobar
Calling all expert entertainers! This India-based home decor brand is moved by the belief that journeys are usually as worthy as destinations. Prepare to gift your favorite hostess (or yourself) with bar cart goodies, dining, and more that prove you have a great eye and hosting skills.
Niwa Kulhars, $30 SHOP NOW
This content is created and maintained by a third party, and imported onto this page to help users provide their email addresses. You may be able to find more information about this and similar content at piano.io
Advertisement – Continue Reading Below
https://www.housebeautiful.com/shopping/best-stores/g37898484/best-international-home-brands/