SOUTHERN INDIANA — Pending approval of a local council, Scott Martin plans to depart this month for Chattanooga, Tennessee, where he will lead the city's recently established Department of Parks and Outdoors.
While Martin conceded it will be difficult to leave behind Southern Indiana and the Origin Park plan, the person who has taken his position made the choice a little easier.
"The beauty in leaving now, it's a great time because I'm handing the job over to my mentor — to somebody who coached me," said Martin, the former executive director of River Heritage Conservancy.
That mentor is Susan Rademacher, the former president of the Louisville Olmsted Parks Conservancy. She also served as the parks curator for the Pittsburgh Parks Conservancy and was the former editor-in-chief of Garden Design and Landscape Architecture Magazine.
And, in taking the helm as the new executive director at River Heritage, she will be able to put her own personal touch on a park that's been described as a transformative project for the region. As planned, it will marry Southern Indiana's natural assets and beauty with recreational opportunities along the Ohio River shoreline.
"It's really imperative to connect people to nature in a way that opens their eyes and makes them love it and want to do everything they can to conserve it," Rademacher said Tuesday, as she sat down with Martin and Kent Lanum, chair of River Heritage's Board of Directors, to speak with local news media about the transition.
Origin Park, through a public and private campaign, is a one-of-its-kind effort in Southern Indiana. While there have been other major riverfront developments, such as the Ohio River Greenway, those were mostly footed through public funding. Origin Park will leverage private dollars along with public investment, and the project was recently noted during remarks by state officials in awarding the local regional development authority $50 million in grant funding aimed at improving quality-of-life and connectivity.
Though it's expected to take several years for the entire project to come to fruition, Origin Park is planned as a 600-acre feature that would stretch along the Southern Indiana shoreline in Clark County and into New Albany. It's to include blueways, trails and river overlooks, but frankly, Martin said, the best part of Origin Park is that it's a simple design. The park is essentially designed to flow as part of nature and the existing features of the shoreline.
And while the plans have been discussed publicly for over a year, 2022 promises to bring some tangible developments for Origin Park.
"You've got this great master plan. You've got the basics set up. Now it's time to execute," Lanum said, as he emphasized that Rademacher is the person who can bring the dream to reality.
Rademacher has extensive experience working with the Army Corps of Engineers, and that expertise will be invaluable as Origin Park moves into its next phases, Lanum said.
While they said the announcements won't be made public for a few months, the trio acknowledged that some major milestones will be reached in 2022. They will be the kinds of steps where people start seeing work in action, bringing Origin Park off of the design table and into reality.
"2022 is going to be the year for us to come out swinging," Lanum said.
Rademacher referenced that 2022 will include continued focus on fundraising and fostering regional relationships, but she also said it will be an exciting year as Origin Park really gets off the ground in terms of a physical presence.
While she's stepping into a new position, Rademacher is definitely not a stranger to the Origin Park concept. Martin asked her to be a part of the expert panel that selected the design team for the project, and she was also on a committee that came up with the park's name.
"I've been excited about it from the beginning. It truly is a unique, really first-of-its-kind park in this region," Rademacher said. "It brings everything together — nature, culture, recreation — and it's a magnificent vision. I can't wait to help implement it."
Rademacher said she fell in love with Southern Indiana as a young adult, as she was captivated by the Falls of the Ohio and the shoreline. Her love of nature and the region's charm falls directly in line with Origin Park's purpose. It's not intended to just be a site where people can bike or paddle in a blueway, but also a park that protects nature and fends against the continuing erosion of the shoreline in Clark County and Floyd County.
Without Martin's abilities, the park would likely be three-to-four years behind its current pace, Lanum said. Rademacher's skills will keep the project on that path, he continued.
Martin believes his mentor will actually take Origin Park to a different level.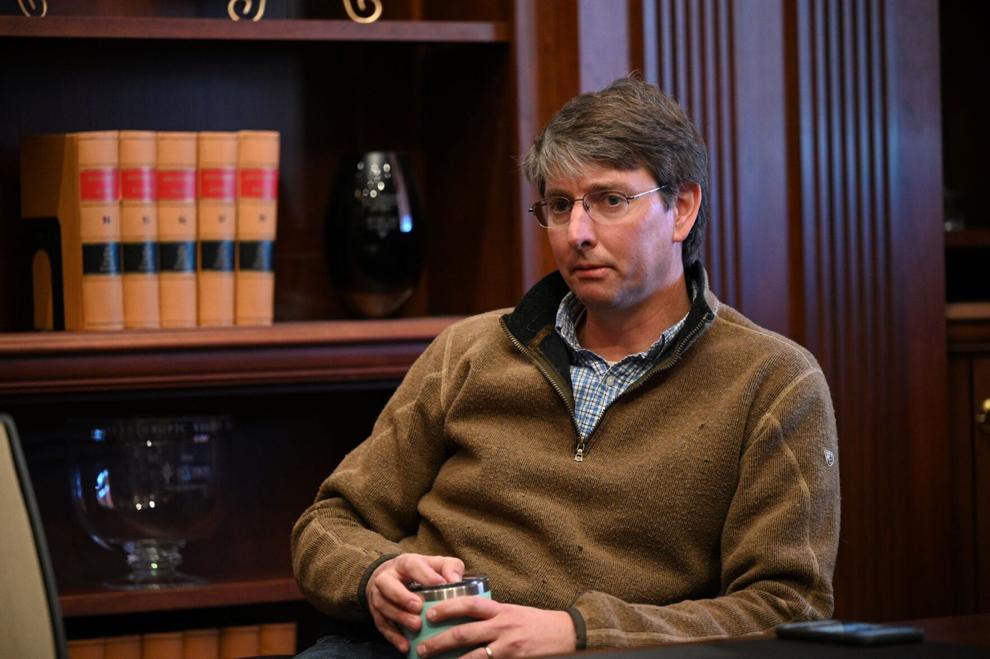 "Susan has an incredible skill-set that will take this thing further than I could have ever imagined," he said.
There will be a meet-and-greet for Rademacher and a farewell for Martin from 4 p.m. to 7 p.m. Wednesday at The Reserve in Jeffersonville.

https://www.newsandtribune.com/news/rademacher-takes-the-reins-at-river-heritage-conservancy/article_c58791a0-6db6-11ec-9fea-9b69e869ef4c.html