A new year means you likely have at least one or more resolutions you'd like to keep—like dropping those COVID-19 pounds or learning to speak Italian before booking that bucket-list trip to Rome. Or maybe you're thinking it's high time to finally get your home looking as fabulous as you'd always hoped. If this last one sounds like you, we're here to help!
In an effort to jump-start your #decorgoals, we asked the pros (aka interior designers) whether they plan to make any changes around their homes right about now. And it turns out, they're just like us! Their gorgeous abodes aren't as perfect as you might think, and many long to press the reset button so they can start off the new year in style.
For the ultimate list of ideas worth copying, check out what seven designers vow to do under their own roofs in 2022.
1. Clearing out the 2021 pandemic clutter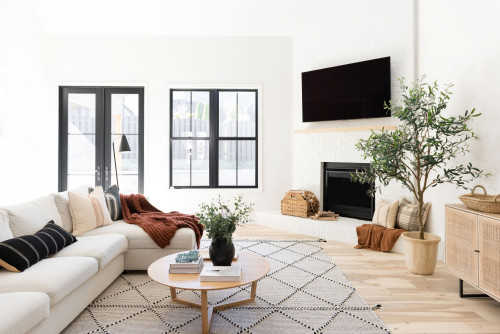 Photo by Lauren DeBello Interiors
Yup, even interior designers have let clutter creep into their homes in 2021.
"I feel like I'm drowning in clutter and stuff," admits Mimi Meacham of Marian Louise Designs, who has a family of five plus a dog. "So in 2022, I'm vowing to clean out every room in the house and keep only what we really need to function well."
After this wholesale purge, she's hoping to achieve "more peace and breathing room," something we all could use right about now.
2. Embracing maximalism to the max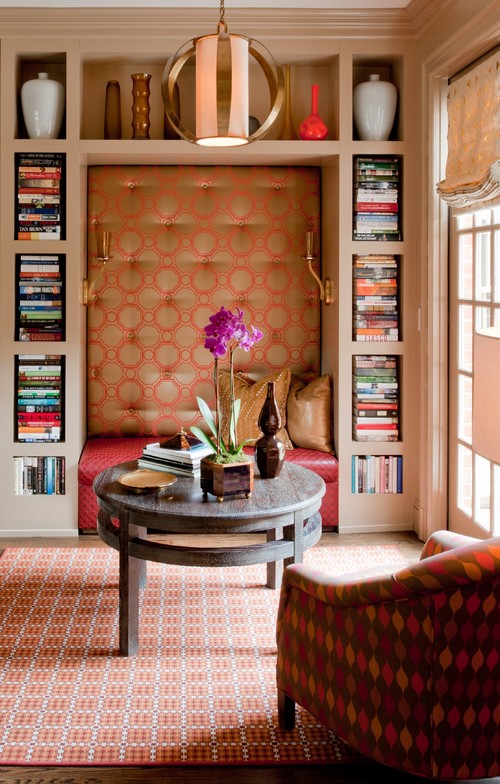 Photo by Teri Thomas Interiors 
While some designers have vowed to clear out clutter, others are heading in the opposite direction. Minimalism in the new year? It's not for Kellie Burke of Kellie Burke Interiors.
"Heading into 2022, I'm leaving behind the clean lines of white on white and looking to add lots of texture, layered patterns, and mixed furniture eras," she reports.
Burke takes her inspiration from maximalist styling and enjoys appreciating our rich past and cultural influences. On her list are textiles, carved furnishings (both gilt and raw), '80s neon-colored art, and dramatic lighting.
3. Finding decor inspiration offline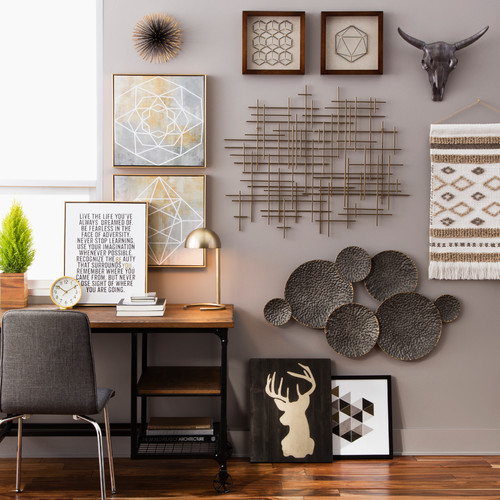 Photo by Houzz
"My goal this year is to find trends outside my phone and computer," says Jennifer Markowitz of JNR Designs. "I draw so much inspiration from what I see in the world."
She hopes to take some trips to hit up her favorite museums and architectural wonders for some much-needed design infusions. While the habit of hopping on a plane without a care in the world may not be here quite yet, we could all stand to set the screens aside and get out of the house a bit more often—and bring some IRL beauty from the outside in.
4. Turning home into the ultimate stay-cation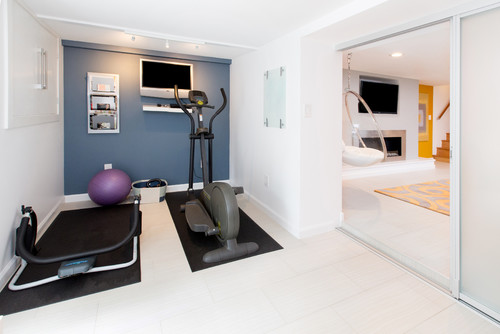 Many homeowners took a hard look at their abodes while hunkering down during the past two years. The result? A desire to enhance their nests for maximum vacation-level enjoyment.
Amy Leferink of Interior Impressions wants to focus on making her own home, as well as those of her clients, into places you'll never want to leave.
"I'm working on my basement this winter, and I'm excited to bring a 'going out' feel to this lower level," she says. Whether you're amping up a home bar or office space, transforming certain areas into multifunctional spaces means you'll get more usage from them— and have more fun, too.
5. Using darker, brooding tones and dimmer lighting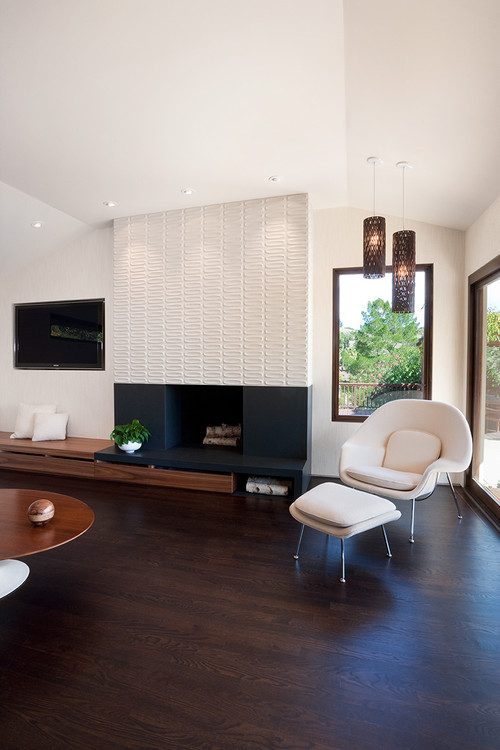 Photo by Jennifer Weiss Architecture
"Darker tones seem counterintuitive to the light-hearted feeling of the new year, but I love the deep-rooted sense I have when a room really holds me this way," says Paige Gray, partner and lead interior designer at Parker & Harlow.
For Gray, this means "wainscoting with darker matte prints and minimal lighting that provides soft hues rather than stark task lighting."
6. Laying on some glamorous high-gloss lacquer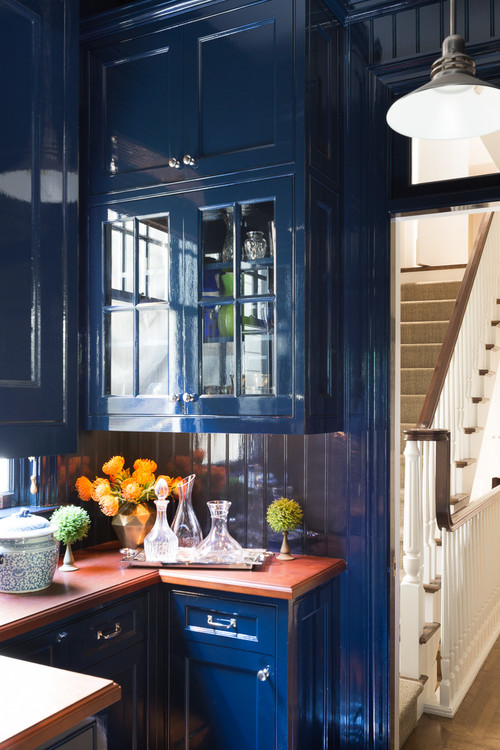 Photo by Ann Lowengart Interiors 
Monochromatic rooms, especially those with shiny lacquer millwork, really speak to Caroline Lovelace's mood this year. The director of furniture sales at Murphy Maude Interiors says she'd "love to do a high-gloss blue or green study, and I'm hoping to see a lot more color in 2022 and less white brick."
And when it comes to New Year's resolutions, interior designers love to swear off certain trends and tired looks, and Lovelace is no different.
"I'm leaving behind small mosaics in favor of linear drains with large-scale tiles," she says. "And I'm absolutely leaving behind shiplap!"
7. Scrutinizing every purchase for the home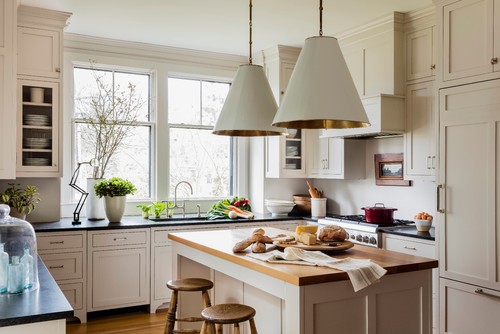 Surprise, even designers fall prey to the fast and easy when it comes to home accessories and other accents. That's why this year, Georgia Zikas of the eponymous design firm has resolved to "stop buying anything that isn't great quality or that doesn't really blow my hair back in style."
Because let's face it, too many less-than-stellar items add up to a look that's unedited and, frankly, kind of cheap. As many of us do, Zikas lives in a small home with young kids, so evaluating her look regularly—at least once a year—is key to a streamlined and attractive life.
"I encourage my clients all the time to edit and to be intentional," she says. "So now it's my turn."

https://www.realtor.com/advice/home-improvement/interior-designers-make-2022-new-years-resolutions/