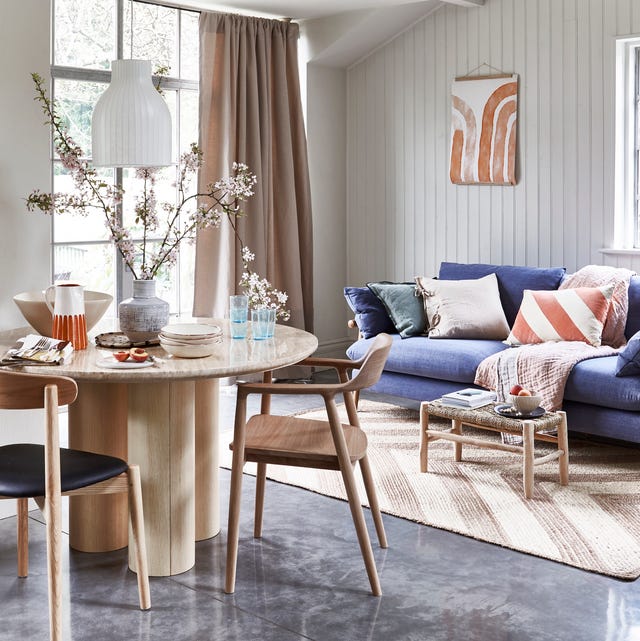 Photography: Rachel Whiting / Styling: Amy Neason
Many of us would love to have an interior designer on speed dial when shopping for new homewares. From luxury items that justify the splurge to the best accessories (including where to buy them), what shopping secrets are you eager to steal from the pros?
With searches for interior design increasing by 63 per cent, Zoe Warren, interior designer at PriceYourJob.co.uk, has spilled her top tips to help you shop for the home. Whether you're embarking on a DIY project or want to refresh your living room, let her advice help you find that dream item you've had your eye on…
1. Plan ahead
When you're looking to refresh a room in your home, it can be hard knowing where to start. Before you head out to the shops (or peruse items online), make a note of the colours, textures, styles and price points you are after – Instagram and Pinterest are great sources of inspiration. Having a clear goal will determine your result, making it easier to compare costs and the overall quality of items before you make the splurge.
2. Measure your room
Every home is different, so don't forget to measure before you buy to ensure items will fit perfectly. If your sofa or bed needs to make it up some stairs (case in point: Ross Gellar's 'Pivot' scene in Friends), measure the width of the staircase at its narrowest point, as this can be easily overlooked.
'I would recommend doing thorough measurements and a floor plan of your space,' says Zoe. 'You can do this yourself or hire a professional. By looking from a bird's eye view, you are able to gauge if certain shapes will fit well together. Ensure that no furniture is pushed up and squashed against the wall, so everything fits seamlessly.'
3. Find a statement piece
When shopping for statement homewares, focus on finding just one thing you love. Whether it's a large sofa or a stylish velvet armchair, Zoe recommends choosing big impact items that will bring a sense of personality to your space — and something that genuinely sparks joy.
'Once you've found the right statement piece, you can begin to add in smaller accents that fit well with the theme,' says Zoe. 'To avoid overwhelming the space, you should combine clean furniture with unique items, this will balance the varying points into a nice blend.'
4. Focus on home accessories
Accessories are brilliant for perking up the colour palette or personality of your home without the fuss of redecorating. While they might often get overlooked in the interior design process, the right accessories can make a larger impact on your desired look. Instead of leaving them until last, Zoe suggests picking your accessories at the start of your project, rather than leaving to the very end.
5. Invest in timeless pieces
Some home decor items are definitely worth their hefty price tags, but it can be tricky to know which ones. Zoe's advice? Invest in items that are high quality, timeless and frequently used — such as your sofa, dining table and mattress. Being comfortable in your own home is one of the most important things to focus on, which is why spending a little more on the place where you sleep, for example, is well worth the money.
'Skimping out on these items means it won't be as comfortable and will have less durability. Splurging on something special will have a larger impact on your overall aesthetic – plus it will save you money in the long term,' Zoe adds.
6. Upcycle old items
Refreshing, reusing and recycling old homewares is a brilliant way to give pre-loved goods a new lease of life. As well as saving you a pretty penny, the environmental benefits of upcycling is huge, minimising the volume of discarded materials being sent to landfill each year.
If you're not feeling creative enough for an upcycling project, consider buying second-hand items to reduce your personal environmental impact. Purchasing used furniture is often more cost-effective, sustainable, and ethical than buying brand new.
Zoe suggests: 'Make a list of items that you could save money on, and check Facebook and various other second-hand markets to see if you can spot any to save. If you've never upcycled before, it is never too late to learn! YouTube offers all the advice and step by step tutorials you need.'
7. Stick to a budget
Having a budget (and sticking to it) is your most important tool in making sure you don't empty your wallet. Make a list of everything you need to purchase (include larger items as well as smaller accessories), and then write down a rough idea of prices to ensure you have a realistic budget. Clearly defining your budget will make the job run more smoothly.
'Once the plan is in place, you will have a better idea of what to splurge on. This will also help you identify areas where you need to cut costs, via upcycling,' adds Zoe.
Follow House Beautiful on Instagram.
---
This content is created and maintained by a third party, and imported onto this page to help users provide their email addresses. You may be able to find more information about this and similar content at piano.io

https://www.housebeautiful.com/uk/lifestyle/shopping/a38801568/interior-designer-shopping-tips/