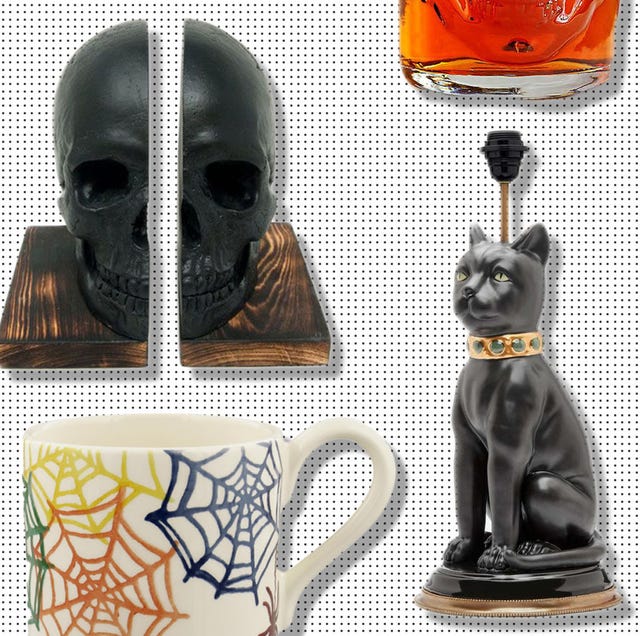 .
'Halloween home decor' are three words that usually give us the goosebumps thanks to years as children wearing bin bag capes, cheap pumpkin-shaped lights and synthetic cat tails.
Thankfully halloween home decor has improved in recent years, with tasteful fashionable options such as Alexander McQueen-inspired skull ornaments and scented candles adding a much-loved mystery and glamour to any setting. Heck, even Emma Bridgewater has got in on the Halloween decor game.
Will All Hallows' Eve just around the corner on October 31, we've rounded up our pick of the best tasteful Halloween home decor for fashion fans that are more glam that garish.
Here's out list of the best halloween home decorations:
1 of 17
Cobwebs Half-Pint Mug
Forget florals because Bridgewater has stepped into the creepy Halloween season with this colourful cobweb-printed mug. 
2 of 17
Glitter Glass Skull Tree Ornament
Don't keep this one wrapped up until Christmas. Let is shine and add some scary glamour to any doorknob, handle or plant in your home.  
3 of 17
Rimini Blu Ceramic Tall Cat Figure
This cat figure is beautifully blue, intricate and handmade in Italy. Need we say more?
4 of 17
Black Pearl scented candle 190g
This Black Pearl scented candle adds some mystery to a room thanks to its blend of ginger and black rose.
5 of 17
Cat on the Moon Tree Ornament
This is such a sweet ornament. We suggest using these as party favours at your next Halloween shindig. 
6 of 17
Mahogany scented candle in black glass jar
H&M – £12.99
This is a big scented candle which comes in a shiny black jar with a lid. Better yet it has a burn time of 60 hours.
SHOP NOW
7 of 17
Black Skull Book Ends
The Blackened Teeth – £35.00
This is a seriously cool set of book ends that are shaped like a skull split in two.
SHOP NOW
8 of 17
Rowan small steel candle holder 21cm
We can't believed how reasonable these candle holders are. They'll work all year round, too. Stick a big chunky white or black candle on the top and you're good to go. 
9 of 17
Patience the Cat Egg Cup
Terrifying? Maybe, but at least it'll add some humour to your morning eggs.
10 of 17
Mojave Ghost Eau de Parfum 50ml
What do ghosts smell like? We have no idea, but if it's anything like this violet, sandalwood, magnolia and musky perfume then we think it's good. 
11 of 17
Skull spiced rum miniature gift bottle 500ml
Take a sip from this skull-shaped bottle full to the corn with spiced rum, or dot a couple of them around your kitchen to add a much-needed orange glow. 
12 of 17
Skull procelain ornament 15cm
We can't get enough of this small porcelain skull ornament that adds a fantastic touch of hard rock glamour. 
13 of 17
House Cat Line Drawing Print Unframed
Hang this cat line drawing up in your house for a vintage, Halloween-inspired feel all year round. 
14 of 17
Cat Iron-On Patch
Flex your DIY skills and iron on this cat-themed patch onto everything, from throws to napkins. 
15 of 17
Smythson
Black jewellery box – £135.00
Whether you want to pop your jewellery in it or just tuck your valuables inside it, this crossgrain leather box is a must for the home.
SHOP NOW
16 of 17
Chocolate skulls set of two 250g
Place these chocolate skulls on a plate and gobble them all up later. For less than a tenner, we couldn't think of a better edible ornament. 
17 of 17
Cleo The Cat Lampstand
This is very Sabrina The Teenage Witch vibes. It's an expensive ceramic lampstand but given that it's from House of Hackney, we're of course obsessed.  
Advertisement – Continue Reading Below
This content is created and maintained by a third party, and imported onto this page to help users provide their email addresses. You may be able to find more information about this and similar content at piano.io
https://www.elle.com/uk/life-and-culture/g23059244/halloween-home-decor/