Drew Freemantle gave up his career in computer technology with life behind a desk to create Maid Perfect with his wife Tonya. "I believe in this," says Drew of his Olympia-based cleaning service. "People just don't have the time to clean the way they want their house to be." He likes providing the level of cleaning that people dream about. Do you too? Their growing business needs a larger team. If you like seeing a job well done and prefer to work with responsibility and independence, Maid Perfect would like you to consider joining the company.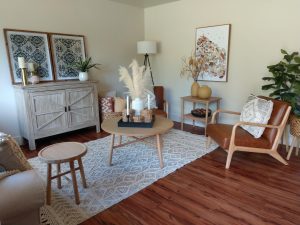 "I can train people," adds Drew, who says that a strong work ethic is far more important than extensive experience. Initially, a new hire would start simple with tasks like dusting and vacuuming. Techniques will be taught that streamline the job and create professional results. Eventually, you could work on your own. Maid Perfect provides residential cleaning for individuals, commercial cleaning for businesses as well as also full move-out/move-in cleaning for apartments and houses. The varied environments keep things interesting.
Employees earn paid vacation and can participate in a 401K. You do need a vehicle to get around, although often jobs are in proximity to each other. A background check will be completed. Maid Perfect has a focus on keeping the work environment positive and up-beat. Attention is always given to work that is over and above expectation. For example, because a vacant unit requires more detailed attention, bonuses are paid. "What my employees are doing is important," stresses Drew, and he likes to keep communications open with his cleaning professionals.
Hours for this job begin around 9 a.m. and continue until 3 p.m. (or a little later). This kind of schedule can work well for people who have children in school or similar time considerations. Weekend work is not required, but there are times when jobs come up. The incentive is time and a half pay. Part time work and some night work is also available.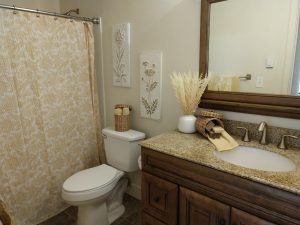 The Freemantles believe that passion for the work is an essential ingredient to the satisfaction of their customers. They want to attract employees with that same drive. "Sometimes we tip-toe down the steps as we leave to not leave any footprints," says Drew. He likes being able to help senior citizens or those with disabilities. They are more challenged with the ups and down of getting into all the nooks and crannies in a home.
They also love being able to watch families grow. Having many longtime clients, they get to watch the children grow up. The Freemantles hope future employees will be drawn to work with such continuity.
"Having a clean house can keep you sane," Drew adds. I am in full agreement with that. Life these days is crazy in plenty of ways. There is something amazingly wonderful about coming home after a full day, opening the front door, and finding vacuum lines on the rug and couch, a kitchen counter that gleams and no dust bunnies in the corners or residue in the bathroom. It's great. The truth is, I do my share of vacuuming, washing floors, wiping counters, and tidying up, but when the whole house is done at once, the feeling calms my soul. It gives me the opportunity to do something else, like volunteering. Most of us could use a little extra time. Also, consider if you are the cleaner, how much people will delight in you coming over when you work for Maid Perfect. Drew is waiting to hear from you and talk with you about joining the Maid Perfect team.
In need of a Clean?
Whether your job is large or small, residential, or commercial, Maid Perfect would like to hear from you. You can contact them for an estimate for look online for a list of services. If you are looking for a few tips on deep cleaning a microwave or controlling allergens in your home, there's a host of articles on the website.
Maid Perfect can clean for events, remodels, new construction, homes and offices. Call Maid Perfect for services when you are moving in or moving out, or simply want to maintain your current residence. Maid Perfect does windows, too. Give clean a chance! You can contact Maid Perfect at 360-402-6248 or by visiting their website and Facebook page.
Sponsored

Find Job Satisfaction and Customer Satisfaction with Maid Perfect