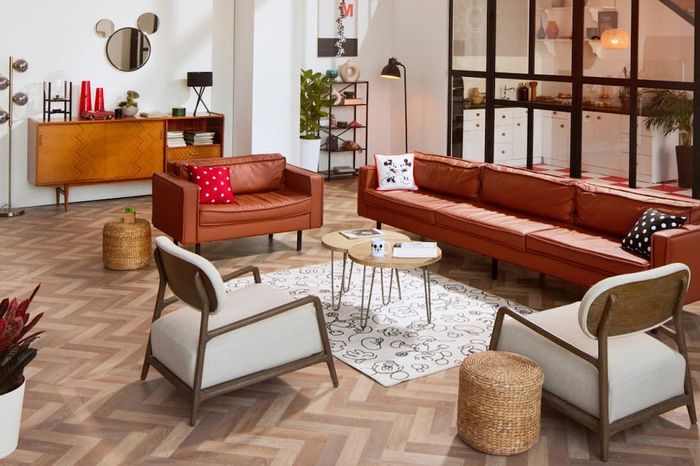 Mouse ears, but make it subtle.
Photo: Disney Home
When you think Disney and décor, you probably picture a Lightning McQueen racing-car bed, or the to-scale Dumbo the Flying Elephant John Stamos keeps in his home, or one of those unfortunate wall decals that threatens, in 12 typefaces, "In this house we LET IT GO because HAKUNA MATATA."
But like velociraptors in a Jurassic Park movie, the Disney adults have been adapting. They're getting sneakier. They want to express their fandom through "aspirational furniture" and "bespoke design pieces." On Monday, Disney launched a new design brand called Disney Home that will offer furniture, décor, home goods and accessories, and collaborations with established designers and retailers. The entertainment conglomerate shared the news with Dezeen, saying, "As our homes are now more important than ever, we wanted to introduce a new homeware brand that brings iconic Disney storytelling into everyday living spaces." Disney storytelling. Living. Where have we heard those words before?
The rugs have ears.
Photo: Disney Home
Ah yes, of course. In February, the company announced Storyliving by Disney, an entire planned Disney community in Palm Springs. It follows that if you lived in a Disney-branded community in a Disney-designed house, you'd want to furnish the thing with Disney home goods. It's just like the architectural concept of biophilic design, or "bringing the outside in" … providing your outside is a Storyliving by Disney community in the middle of the desert.
The Disney Home concept art places its products in clean, streamlined spaces: There are rugs by Ruggable with stark black-and-white Mickeys Mouse and Star Wars spaceships; framed graphic prints of Disney IP that split the difference between Mondo exhibition and RedBubble art; a child's bedroom done up in a vintage Marvel motif, including a dresser covered in a Jack Kirby–era Avengers print. All of these stagings are accented with non-branded features like woven baskets, chevron-print textiles, and furniture with uniformly sleek Danish modern legs. Just as the rest of the world has moved on to cocaine-décor indulgence and loud nouveau-Memphis maximalism, Disney has finally caught up to the 2010-ish mainstreaming of the mid-century modern revival. It's a shame, too, because the postmodernism of Michael Graves and Robert Venturi that defined Disney's corporate architecture in the '90s would feel so much more relevant to today's kindercore moment and would at the very least let a Disney-themed house look actually playful. It would certainly be less beige.
In Disney's animation, theme parks, and hotel design, there exists the concept of the "Hidden Mickey," in which artists blend the tri-circle logo into environmental design, providing little Easter eggs for keen-eyed fans. With Disney Home, they may have made it all a little too subtle. These products and concept photos all display a restraint that feels like it stems from insecurity; an assumption that the would-be Disney adults "aspiring" to these furnishings want to camouflage their fandom. These Disney homewares try for tastefulness and fail … because they're Disney homewares. If you're going to festoon your home in a Disney motif, wouldn't you be doing so out of a sense of whimsy, or nostalgia? If this was the design route we're taking, I'd want my house to look like a goddamn luxury Gymboree.
Last week, I went to Disney World. My mom and I had been in South Florida for the week and drove up to Orlando to spend a few days. We're not the sort of people who go to Disney World every year, but we're also not the sort of people who are deluded into thinking Disney World sucks. It doesn't. It's awesome. You can argue it's too expensive (true) or lowbrow (sure). But no other vacation destination has Muppet Vision 3-D, and I really think Muppet Vision 3-D deserves to be landmarked as a place of national artistic significance. On this trip, the first in maybe five or six years, I trawled the gift shops for a T-shirt, any T-shirt, with Remy the rat from Ratatouille on it. I would have even settled for a long-sleeved tee with a Cars car, obviously in a boys' husky size, or something fun from Turning Red. I came up empty-handed, but what I did see was the stores pushing a whole new line of Disney goods that would look right at home on the shelves of Anthropologie: table linens and ceramics in pretty Aegean blue and white, patterned with teeny handstamped, artisanish Mickey Mouse heads. They were launched in March as part of the "Mickey Mouse Homestead Collection," which appears to be sort of a Disney Home soft launch that will get incorporated into that brand when it goes live.
They look nice. But they are a coward's tablescape, produced by a team without the courage to just go full Pop Art. Either live in a Mickey Mouse House or don't. Either buy the waffle press that makes your waffles look like Mickeys or don't. Establish a landline number so you can take phone calls on one of these things or forget about it. Turn your rec room into an "Enchanted Tiki Tiki Tiki Tiki Tiki Room" or don't invite me over. You can be a Disney adult or an Adult adult, but Disney Home feels trapped between worlds, and that's not particularly magical.

https://www.curbed.com/2022/05/disneys-new-home-line-makes-ip-based-furniture-and-dcor.html