Over the past several years, manufacturers have teased battery electric compact machine prototypes at major industry shows. But until very recently, the availability of actual production machines was very limited. That is changing, and you may want to take note as these machines can offer unique advantages in specific applications.
"We believe market acceptance is already there now for those specific uses where diesel's emissions, noise and fuel storage requirements present health, noise and environmental risks," says Joe Schinasi, Kovaco Electric. Such scenarios include interior construction, agriculture and livestock, tourism, resorts, etc. "In these applications, electric equipment is clearly advantageous.
"That said, we believe it may take another five to 10 years for electric heavy equipment to overtake diesel as a percentage of sales as there are some lingering dependencies that still need to be addressed," he notes, such as battery technology, cost of batteries, charging infrastructure, buyer comfort level with electrical equipment, etc. "As it did with electric passenger vehicles, government incentives and regulations may help to expedite adoption of electric heavy equipment."
But potential customer concerns must be addressed. "For electric equipment to become the norm, machines need to be designed and proven to overcome the main concerns voiced by skeptical buyers around energy capacity, performance and price," says Lars Arnold, product manager electromobility, Volvo Construction Equipment.
Volvo's initial efforts to gain customer acceptance are focused on battery-powered compact wheel loaders and excavators. "We started with compact machines in our electrification journey because they are versatile and in high demand, and the current battery options work best on smaller machines for now," says Arnold. "For larger machines, it can be a mix of solutions like energy recuperation, fuel cells, cable electric and alternative fuels.
"In five to 10 years, all new Volvo compact excavator and wheel loader models will likely be electric," he predicts. "We are also looking into electrification of other machine types. Electrifying larger machines remains a challenge, but it's one we're actively seeking solutions to. Full-sized models will likely be a mix of diesel, hybrid and electric by the end of this decade."
A Holistic Approach

A holistic approach is necessary when comparing electric machines to their diesel-powered equivalents.
"Electric machines do have a higher purchase price than their diesel equivalents, but the total cost of ownership should be considered when evaluating them, including the fuel savings and extended component life of not having an engine, which reduces overall maintenance costs," says Arnold. "The state of the art lithium-ion batteries and electric motors are totally maintenance-free. The lifetime of the battery electric components should be equal to or better than that of the diesel engine on a conventional machine."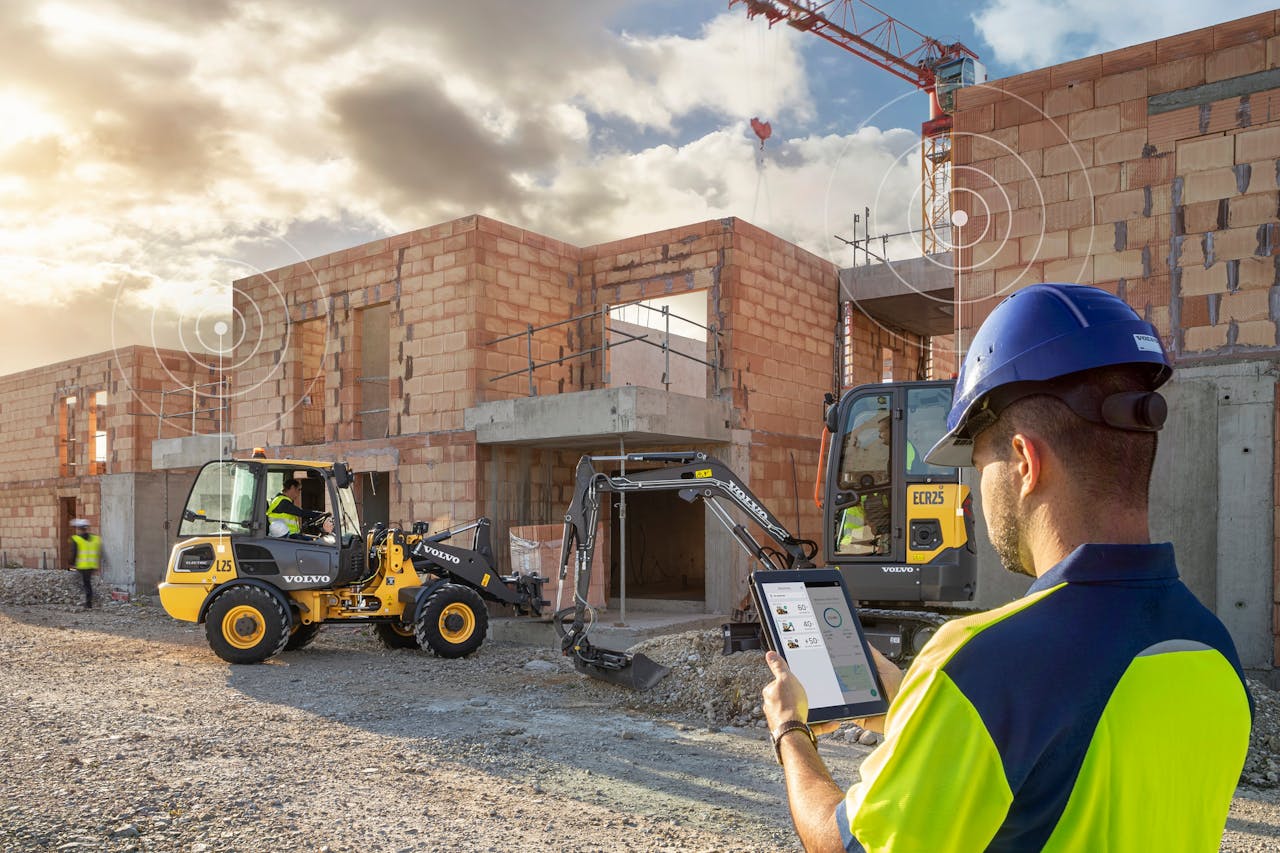 Volvo's Electric Machine Management Application will provide insights to help manage the electric machines efficiently Customers of any of the five electric models will also soon be able to take advantage of a new fleet management solution designed specifically for the remote monitoring of electric machines.
Battery technology continues to progress, as well. "The lithium-ion technology used in our batteries is far superior to the old lead-acid or nickel-cadmium technology we sometimes think of in electric vehicles," says Arnold. "Volvo's advanced batteries have no memory effect, and they experience less loss of power in cold temperatures. With a 12V lead-acid car battery, the capacity is drastically reduced as soon as it gets cold. That's less the case with these batteries."
Electric machines also add value by targeting new work segments. "Having a zero-emissions machine could give contractors an advantage when bidding on jobs with sustainability targets or indoor work," says Arnold. "Their lower noise levels could allow them to be used when noise restrictions are in place, like night work in densely populated areas. And we're constantly hearing of other niche applications unsuitable for conventional diesel machines where an electric excavator or wheel loader can get the job done."
Residual value is another consideration. As Arnold explains, "With diesel construction equipment, operating time is defined by the engine run time, and a lot of hours are counted while the machine is idle. With electric, as soon as the operator stops working (e.g., waiting for pipe to be placed in a trench he's just dug), the motors turn off and no operating hours are accumulated. Jobs that can rack up 10,000 hours on a diesel machine might only add 6,000 or 7,000 hours to a comparable electric machine. These saved hours lower operating costs, and in turn lower total cost of ownership. They help improve resale value, too."
Addressing Battery Life

One performance criterion that remains an unknown is battery life. "We don't yet know how long the batteries will last in electric construction equipment because the machines are so new, but we estimate the battery could last somewhere around 10 years," says Arnold. "It's hard to say what costs will be by then. In these early stages of use and further development, charging time and battery life have the most room for improvement. We are continuing to research, develop and provide a wider range of charging options.
"As electric vehicles continue to roll out into the market, improved charging infrastructure will follow suit," he predicts. "The battery technology used in our equipment is very similar to, if not the same as, what's used in electric cars and pickup trucks. As battery technology advances, similar updates will be implemented in construction equipment."
Schinasi shares a similar view on battery innovation. "The primary technical challenges we, and our customers, face is battery run time duration and battery charging. This is the heavy equipment equivalent of 'range anxiety' in electric cars. Will the battery last for the duration of the work shift? Will there be an appropriate power supply on site to charge it (e.g., single phase vs. three phase)? How long will the battery take to charge? These are questions we hear frequently," he comments. "Currently, [Kovaco addresses] these issues by offering a variety of battery and charging options to accommodate most use cases." But this creates the related challenges of managing multiple offerings and suppliers.
Volvo Leads Charge

Volvo is leading the charge in the battery electric vehicle (BEV) sector with five compact, battery-powered construction options in its lineup, including the L20 Electric and L25 Electric wheel loaders, and the ECR18 Electric, E18 Electric and ECR25 Electric compact excavators.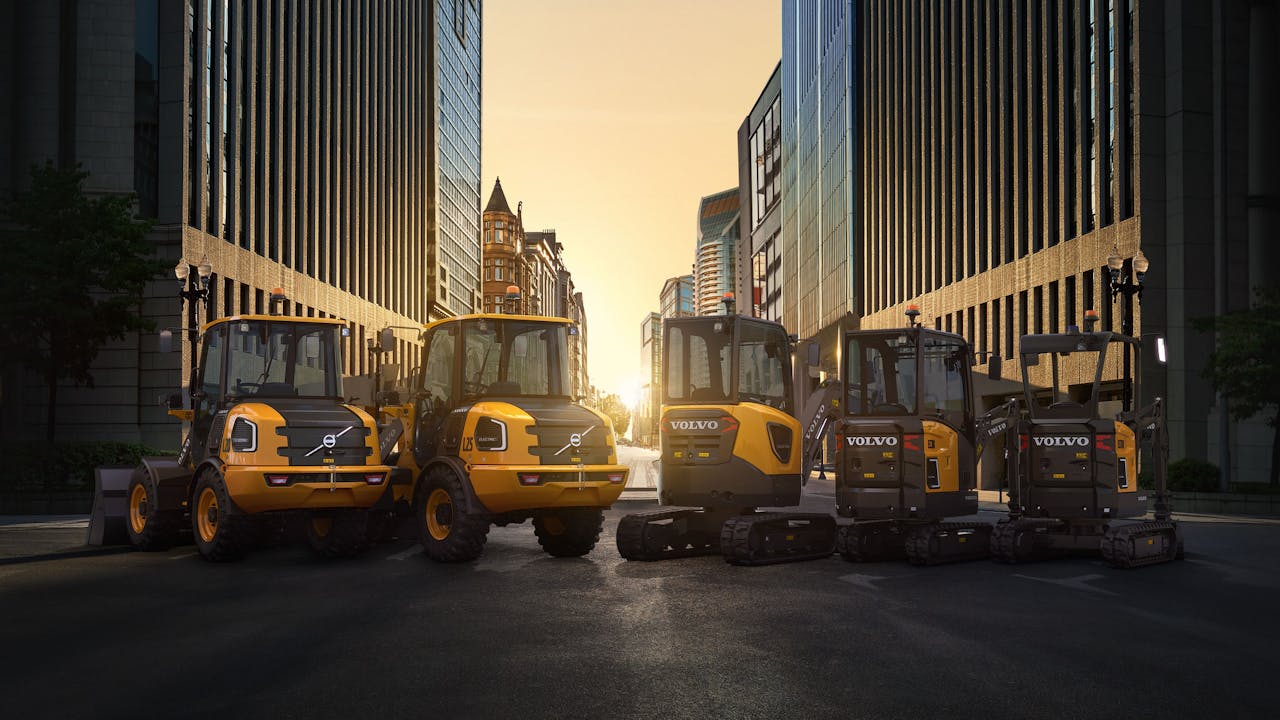 Volvo CE is leading the charge in the battery electric vehicle (BEV) sector with five compact, battery-powered construction options in the lineup, including the L20 Electric and L25 Electric wheel loaders; and the ECR18 Electric, E18 Electric and ECR25 Electric compact excavators.Volvo Construction Equipment
"In everything that we have seen so far, our electric machines offer performance levels similar to or better than their conventional diesel equivalents," states Arnold. "For example, the ECR25 Electric compact excavator has a digging depth of 9 ft.
1 in. and a breakout force of 5,020 lbf. The L25 Electric compact wheel loader has a full-turn tipping load of 3.7 tons, a dump height of 8.2 ft. and a 4,409-lb. payload fork load capacity.
"The few exceptions are a slight increase in continuous motor power and a marginally higher operating weight for the ECR25 Electric excavator," he notes. "And for the L25 Electric wheel loader, it too has a marginally higher operating weight and a higher static tipping load compared to the diesel model."
But performance is about more than specs. "Contractors already using Volvo electric machines are reporting that they can't tell the difference when it comes to performance," says Arnold.
"Over the three months we tested [the Volvo electric compact equipment], these machines performed exceptionally, matching what we would expect from a diesel machine of equal size but with no emissions," says Jacques Marais, director, Baltic Sands.
Kovaco Electric Offers Skid-steer and Mini Loader Options

In 2015, Kovaco Electric brought the Elise 900, the first fully electric skid-steer loader, to market. It offers up to six hours of operation with a 240-Ah battery or eight hours with a 400-Ah battery. The power equivalency compared to conventional skid steers is 30.8 hp with 240-Ah battery and 52.3 hp with 400-Ah battery. The unit is driven by three electric motors, two of which are used for travel and one for the hydraulic system only.
Kovaco Electric estimates that a heavy equipment operator could save nearly $18,000 over 3,000 hours if they used its Elise 900 electric skid-steer loader over a comparably priced and comparably spec'd diesel skid steer."Per our own internal calculations, Kovaco Electric estimates that a heavy equipment operator could save nearly $18,000 over 3,000 hours if they used our Elise 900 electric skid-steer loader over a comparably priced and comparably spec'd diesel skid steer," says Schinasi. "This represents a roughly 75% savings in fuel and maintenance costs. An online search indicates that the average skid-steer lifespan is 5,000 hours. With proper care and maintenance, our batteries should outlast that. Kovaco Electric batteries can provide 1,700+ charges up to 80% capacity, and therefore should last for the lifespan of the loader."
The company also offers the MiniZ compact track loader. "The Kovaco Electric MiniZ compact track loader's electric battery options are priced nearly identical or at a slight premium compared with diesel engine counterparts," says Schinasi. "While the initial investment may be slightly higher, the operational costs and maintenance savings over the life of the machine more than justify the initial capital expenditure premium.
"When compared against loaders in the same class, the MiniZ electric loader performs similarly to comparable diesel mini loaders with significantly lower operational costs," says Schinasi. "Our machines also offer features that comparable diesel machines do not, including remote-controlled operation, instant torque, low noise and many other benefits. These features introduce a whole new world of potential applications where traditional diesel machines could not be used.
"One example is landscaping applications in the early morning. Diesel equipment is very loud and noise ordinances may prevent early morning use," he comments. "In contrast, the MiniZ is very quiet and could be used for early morning landscaping and applications with minimum disturbance."
Doosan Bobcat Rolls Out All-electric CTL
Doosan Bobcat unveiled its all-electric Bobcat T7X compact track loader (CTL) at the Consumer Electronics Show 2022 in Las Vegas on January 4. This CTL is the first machine of its kind to fully eliminate all hydraulics and components, resulting in a machine that is 10 times quieter than its diesel-hydraulic equivalent.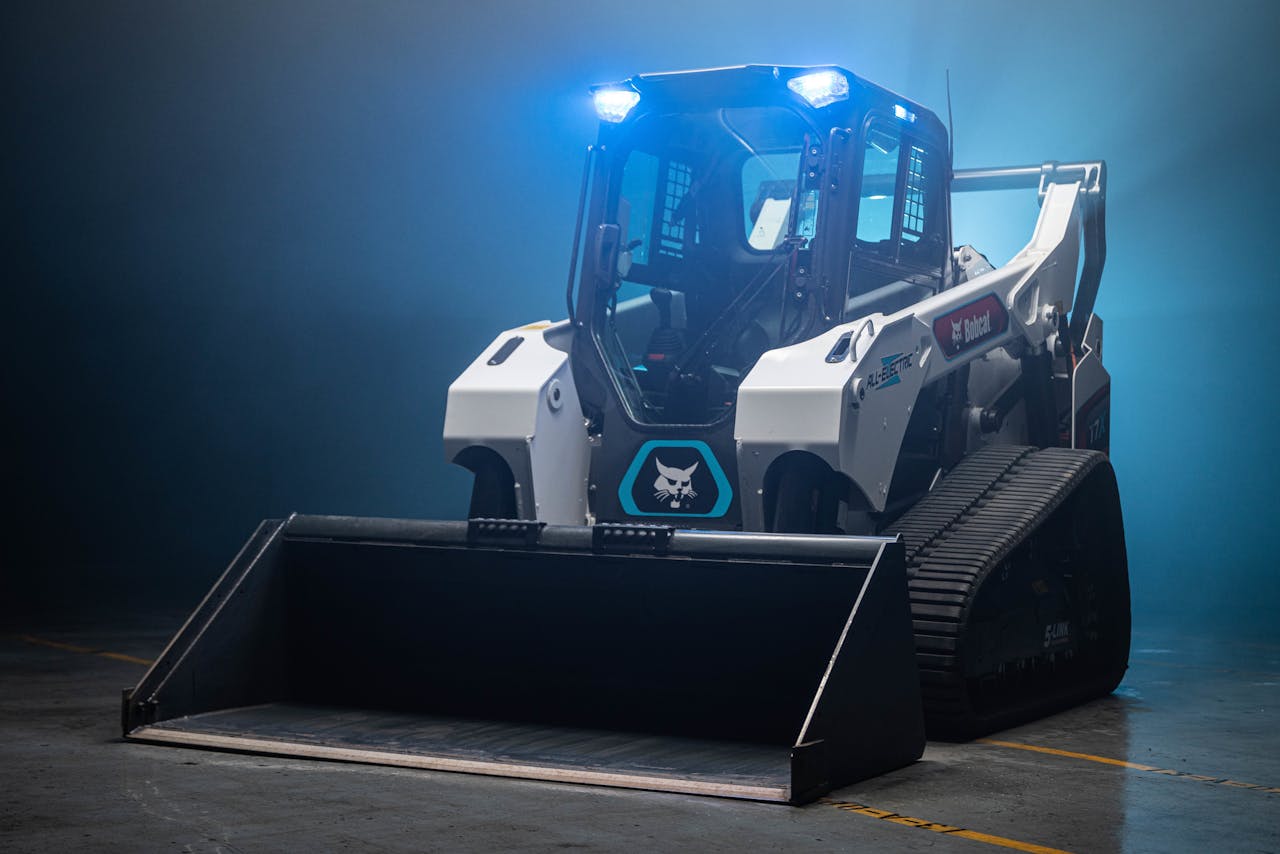 Doosan Bobcat unveiled its all-electric T7X compact track load at the Consumer Electronic Show 2022 in Las Vegas on Jan. 4, 2022.Doosam Bobcat
The unique design of the T7X has nearly 50% fewer parts than the diesel-hydraulic version. The traditional hydraulic work group has been completely replaced with an electrical drive system consisting of electric cylinders and electric drive motors, which means virtually no fluids. Only one quart of eco-friendly coolant is required compared to 57 gal. of fluid in the equivalent diesel-hydraulic model. The machine promises to lower daily operating costs when considering the reduction in annual maintenance costs and elimination of diesel, engine oil, diesel exhaust fluid and hydraulic parts.
"The machine is fully battery powered and is designed to outperform its diesel counterparts," says Joel Honeyman, vice president of global innovation, Doosan Bobcat. "The machine is more intelligent and productive with electric propulsion. It's quiet with high-performance torque, and it's more powerful than anything that has come before — all while eliminating carbon emissions."
The T7X's electric platform enables instantaneous power and peak torque to be available at every operating speed. There is no delay for a standard hydraulic system to build up power. The machine draws power from a 62-kW lithium-ion battery developed with Green Machine Equipment Inc., Doosan Bobcat's technology partner.
"The intelligence of the power management system is programmed to sense when loads are increasing," says Honeyman. "It automatically backs off power when not needed, so it preserves energy and runtime. Unlike its diesel counterpart, this electrically-powered machine and power management technology only consume energy when it is at work." While the exact run time will vary by application, the use of intelligent work modes can allow up to four hours of continuous operation time and a full day of operation during intermittent use.
Two-way telematics communication provides integral data about the performance of the machine, along with operator-focused data to change machine preferences, tune the performance to certain job situations and upgrade product features. This includes variable drive speed at full torque and other features not possible with a diesel-hydraulic machine.
"We employ different work modes that we've developed through software, depending upon the task, to help conserve battery power," says Honeyman. "We have an Eco mode, an Advanced mode and even a Beast mode, which provides short bursts of full instantaneous torque to the drive system when needed."
Doosan Bobcat collaborated with Moog Inc., a worldwide developer of motion control components and systems, to speed up the pace of research and development of the electronic control capabilities of the T7X. "Like Doosan Bobcat, we believe that electrification, automation and connectivity go hand in hand," says John Scannell, chairman and CEO, Moog Inc.
The removal of the hydraulic system will require a different approach from the attachment side. Bobcat will introduce a line of all-electric attachments. The first to be developed include an electrically-powered auger, an angle broom and a grapple.
The T7X appears to have critical support from one of the leaders in the rental industry. Sunbelt Rentals, which has more than 1,025 locations in North America, has entered into a strategic partnership to make a significant investment in a large fleet of Bobcat T7X CTLs and electric compact excavators, which will be co-branded and made available in 2022 and beyond. Sunbelt Rentals will be the first national equipment rental company to adopt Bobcat's battery electric technology and make it available to customers, supporting the environmental, social and governance focus for both companies.
KATO-CES Allows Customers to Cut the Cord
KATO-CES offers two models of battery electric mini-excavators — the 9VXB with a 5-ft. 2-in. digging depth and a bucket force of 2,360 lbs., and the 17VXB with a 7-ft. digging depth and a bucket force of 3,687 lbs. The machines utilize a standard hydraulic system so you can still run the same attachments as the diesel versions.
"There is a demand and there is a market, and it's growing," says Bart DeHaven, KATO-CES. "Right now, it is more of an indoor and confined space application." This includes any applications with food or pharmaceuticals where the customer wants a strictly controlled environment.
Machine specs are very similar to the diesel equivalents. "The electric unit is a little heavier than the diesel unit, but it is still the same dig depth," says DeHaven. "The only drawback to these machines is run times. On a diesel machine, all you have to do is make sure it has diesel in it and you can run it for 24 hours a day, seven days a week." But the electric machines require a charge time. "You have to charge it eight to 12 hours to get eight hours out of it."
The biggest concern with a battery machine is charging it correctly. "You cannot let it sit for two or three months and not charge it," says DeHaven. "The onboard computer system will slowly drain the battery." The onboard computer is running almost all the time to allow modern telematics services and diagnostics.
Battery power takes the lead, however, when it comes to maintenance and related costs. With diesel, you have to check the air filter, the oil level, the coolant level, etc. "When you are using an excavator with a battery, all you have to do is check the LED light screen for the charge state," notes DeHaven. "With batteries, you are not worried about the DPF filter getting stopped up or putting bad diesel fuel in it."
In terms of battery life, it appears to compare favorably to diesel power. "Right now, the life should be longer than what you get out of a diesel engine," says DeHaven. But there are outside influences such as the weather where the machine is utilized and the way the customers charge the batteries.
KATO-CES has offered plug-in electric versions of these machines for a number of years. "Some of the same customers who were using the electrics for years are the ones who are going after the battery machines," DeHaven notes.
"Most of the rental customers are realizing that the battery is the way to go," says DeHaven. The plug-in electric has more limitations. "You can only run 200 or 300 ft. of the cord the machine comes with before you have to go up in size, because from the power source — single-phase 230 volts or three-phase 480 volts — there is an amperage drop… the further you get away from that power source.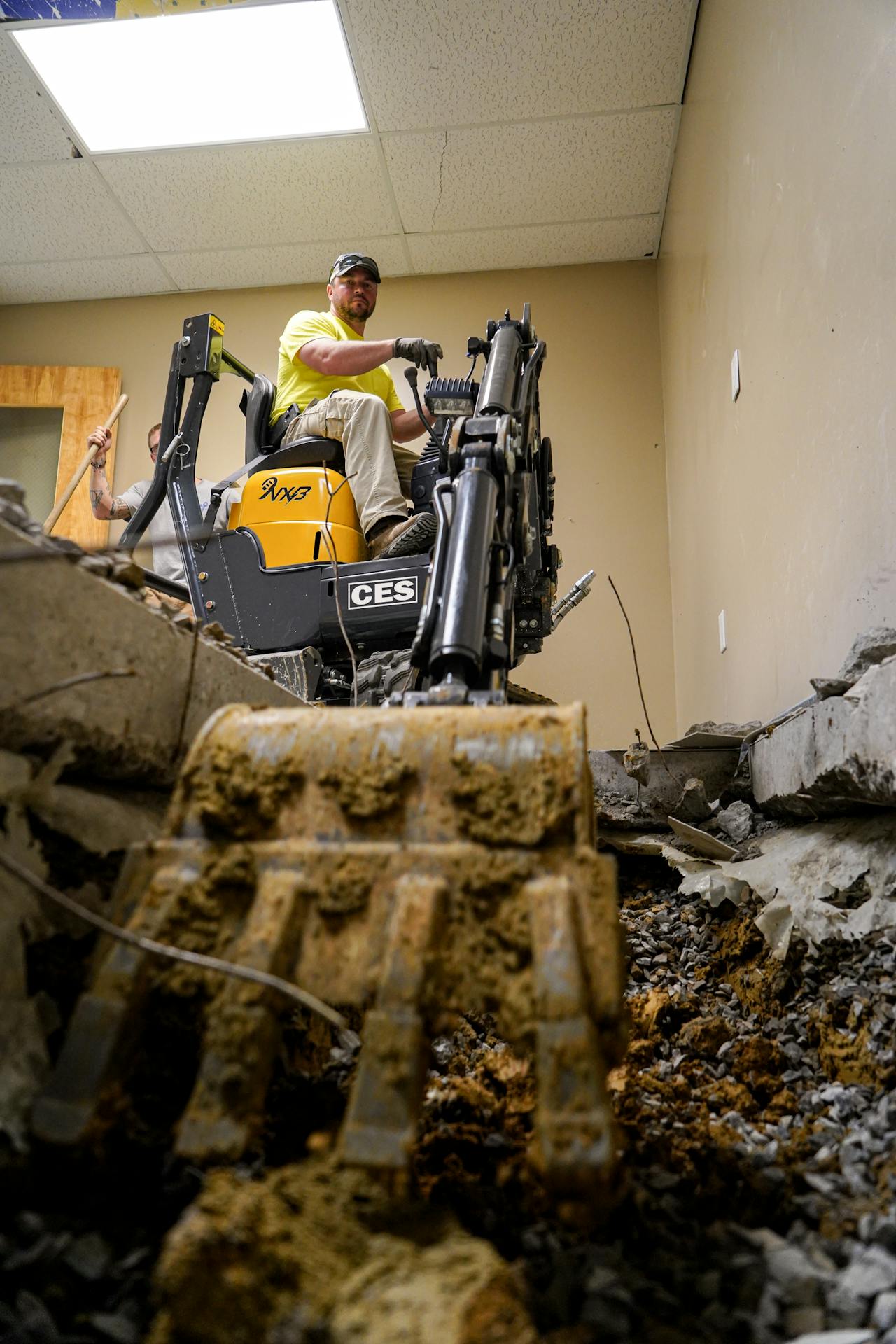 KATO sees demand growing for its battery electric excavators among contractors who perform work in enclosed environments and those who work on closely regulated sites, including food and pharmaceuticals.KATO Compact Equipment Sales
"With the battery machine, they can do whatever they want as long as it is charged," he continues. "You are not worried about somebody running over the cord or damaging the cord. It takes the cord completely out of it as far as when they are operating the machine. We don't sell as many electric plug-in machines because the battery machines have taken that market over." But there is a learning curve. Education is required regarding the charging process and when to plug the machines in.
Currently, cost is one of the biggest limiting factors in wider adoption of battery power. "The research and development on them is very expensive," says DeHaven. This results in a much higher initial purchase price. "If you go machine to machine, the battery [version] is about double the same model, same class of diesel machine. A lot of that has to do with the cost of the battery technology itself. The costs will come down, but I don't know if they will ever go down to where they are [equivalent] cost-wise with a diesel machine.
"There is a growing need [for battery machines] in the U.S. market. It's going to continue to grow," he predicts. But currently, they are still a specialized tool. "I think there is always going to be a place for the diesel machine, but I also think there is a place for the battery machines. I just don't think right now, with the cost being so much more and the run time constraints, that they are going to overtake diesel anytime soon." 
https://www.forconstructionpros.com/equipment/earthmoving-compact/article/21993191/compact-battery-electric-machines-gain-ground-in-construction