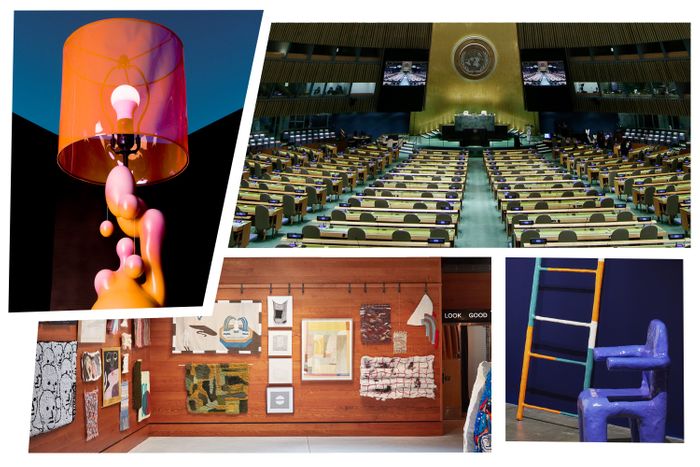 Photo-Illustration: Curbed. Photos (Clockwise from top left): Sidd Finch; John Angelillo; James Harris; Ace Hotel Brooklyn
Every couple of weeks, I'll round up and share the objects, designers, news, and events worth knowing about.
The United Nations really wants to make the world think it gets it. Or even remind the world that it exists. So it handed over the keys to its storied General Assembly Building to BTS in a pretty naked attempt to gain some relevance. The K-pop boy band filmed its latest video, "Permission to Dance," on the premises and also delivered a speech at the General Assembly opening to encourage climate action. What's funnier still is that a major portion of BTS's audience — a.k.a. Gen Z — already cares about climate. Remember the rather embarrassing shaming by Greta Thunberg who, in 2019, pointed out the organization's hypocrisy, given their members' massive carbon footprint from airline travel?
This isn't the first time an artist has recorded in the building: In 2012, Beyoncé filmed a performance as part of World Humanitarian Day, but we didn't see much of the building's interiors. The BTS video, which has been streamed 16.5 million times, shows the boys crooning at the marble podium of the General Assembly Hall, sashaying through the moss-green chairs, and bouncing through the four-story-tall visitors lobby before heading to the lawn out front. It's a rare chance to see inside one of the most famous modernist buildings and it's nice to see the building get some love, particularly after a $2.3 billion renovation completed in 2017. The video's boosterism, along with its setting, also feels strangely fitting: The United Nations was designed in the 1940s by another "supergroup": the international team of architects that included Le Corbusier, Oscar Niemeyer, and Sven Markelius and intended to display progressive values through marble, glass, and steel.
Design Miami/Basel — the blue-chip art-and-collectible design fair — is now on view in Basel, Switzerland. It'll pack up and come to Miami (where the parties are often more of a draw than the work itself) in December. This edition has a new online shop, called DM/BX, which is selling everything from $150 textile wall hangings from Mali to $2,500 Roberto Lugo bowls. I was most excited to see a few pieces from Diego Faivre, a Netherlands-based artist who covers found objects in air-drying clay that he calls "Diego Dough." Faivre's 2018 grad project from Design Academy Eindhoven, named "Minute Manufacturing," remains one of my favorite projects. He sold one-euro "Diego Coins" that were each worth one minute of production time. The idea is that the more you spend, the more time he spends, and the better the piece will be in the end. A few of his pieces are on sale in the DM/BX store, each with quite literal names like Table Made in 655 Minutes, Stool Made in 296 Minutes, Planter Made in 306 Minutes. Each piece is made to order.
There have been a number of excellent contemporary-design exhibitions in modernist homes as of late — see: Object & Thing's recent shows at the Noyes House and Luss House — which offer a twist on the typical house museum. Instead of walking into a time capsule, it's more like a voyeuristic view into a very stylish collector's life. "Built In," a new exhibition at the Neutra VDL House, in Los Angeles, is the latest. To celebrate the house's reopening from a COVID-19 hiatus, its directors, the Los Angeles design gallery Marta and the artist Erik Benjamins, commissioned 32 site-specific works by local artists, like ceramic house numbers by PapiBoyBabyBoy, a giant clam-shell fountain that masks street noise by Charlap Hyman & Hererro, and curtains by Misa Chhan. Through November 7.
The fluid mechanics of the lava lamp don't get nearly enough appreciation. Perhaps it's because the lamp is associated with uncouth frat houses, fire hazards, and toxic chemicals. But the shapes inside the glass vessel can be mesmerizing. Joe Jagodzinski, a self-taught CAD designer and maker in Detroit, was inspired by them to make a 3D-printed homage in the form of a gravity-defying, blobby base that won't burn your house down if left on.
Photo: Courtesy of Ace Hotel Brooklyn
As a tribute to the Bauhaus's renowned weaving workshop, the Ace Brooklyn, which has an architecture façade inspired by Bauhaus architecture, has focused on adorning its interiors with textile-and-fiber sculptures commissioned by artist and curator Niki Tsukamoto. The contrast of soft, floppy, and textured art by over two dozen local makers and the Brutalist-leaning interiors makes for actually good hotel art. Textile pieces are also on view in the ground-floor art gallery, which is hosting group shows of all the artists who've created work for the rooms. The latest iteration features Molly Haynes's graphic rope sculptures, Alicia Scardetta's intricately wrapped wall hangings, and Isa Rodrigues's naturally dyed fabrics. Through 2021.

https://www.curbed.com/2021/09/bts-permission-to-dance-united-nations-general-assembly-architecture.html