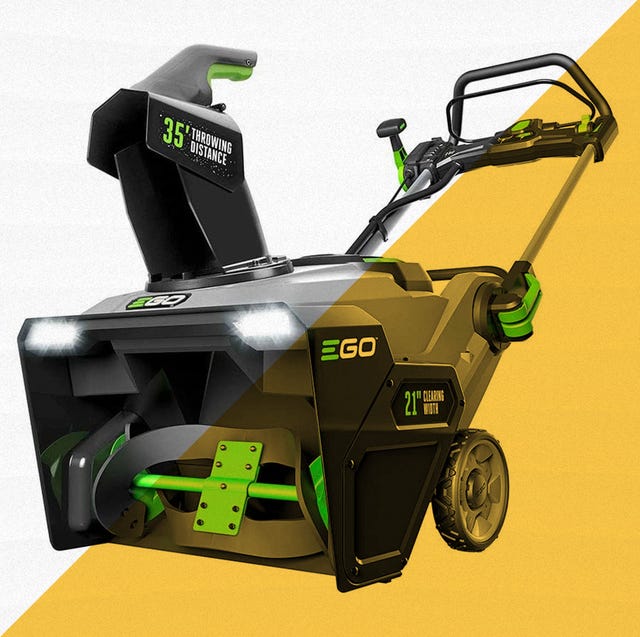 Staff, Courtesy of Ego
It's that time of year again—the season when trying to clear big piles of snow from your sidewalk or driveway can be a real pain in the neck (literally). A snowblower can make this job much easier and help you avoid some aches and pains, but some of these machines can be pricey. Fortunately, there are some cheap snowblowers that let you solve your snow removal headaches without breaking the budget or sacrificing (too much) in quality and performance.
The Expert: I've been involved with construction, maintenance, and home renovation for more than 30 years—from both a personal and professional standpoint. I owned a maintenance and construction business with my husband for nearly 20 years. My home—a fixer-upper built in the 1800s—is situated in the rural mountains of Pennsylvania where heavy snowfall amounts are common. As a result, I have considerable firsthand experience with snow removal tools and techniques of all types, including snowblowers.
How to Find the Best Cheap Snowblower for You
Snowblowers vs. Snow Throwers
You will notice that some snow removal machines are called "snow throwers" instead of "snowblowers." This is especially common at lower price points. Smaller, less expensive machines are often classified as snow throwers, which pick up and throw snow in one continuous process, whereas snowblowers typically have at least a two-step process. Snowblowers are more powerful and can clear snow more quickly—and usually throw it farther—than a snow thrower. But when you're on a budget, snow throwers are still helpful tools that make clearing piles of powder easier than standard shovels.
Power Type
Snowblowers and throwers are either powered by gas or electric. Gas models tend to offer greater power (for a higher average cost), whereas electric machines (that come in corded or cordless designs) are quieter and involve less maintenance. Depending on the type of electric machine you have, you will need to be within reach of an electrical outlet or ensure your machine's battery is charged.
More Snow Removal Tools: These Powerful Gas Snowblowers Gobble Up Snow • The Best Electric Snowblowers for Quicker Snow Removal • Ego's Two-Stage Snowblower Is The First Legitimate Electric Alternative to Gas • Keep Snow and Wind at Bay with These 5 Snowblower Cabs • 7 Electric Snow Shovels for Faster Snow Removal
Clearing Width
The width indicates how wide the path is that a snowblower can clear in a single pass. For electric machines, widths of 18 to 21 inches are most common, whereas average residential-use gas snowblowers typically have a slightly larger clearing width. However, note that less expensive snowblowers tend to have smaller clearing capabilities and/or are less powerful than more expensive machines.
How We Evaluated
To find the best cheap snowblowers, I specifically focused on machines that cost under $500. That's a reasonable maximum budget for the average homeowner who might only use a snowblower a few times each winter. In evaluating a wide range of machines, I drew upon my personal familiarity with these types of machines and also studied reviews from hundreds of Amazon and Lowe's customers. Within the price constraints, I looked for snowblowers that use various power sources and compared each machine's promised performance based on its clearing width and depth, throwing distance, and motor size. After doing all of that research, these eight cheap snowblowers earned my expert recommendation.
Advertisement – Continue Reading Below
Best Gas Snowblower
Craftsman 21-Inch 123cc Single-Stage Snowblower
Key Specs
Model Number: 31A-2M1E793
Power Type: Gas
Clearing Width: 21 in.
This snowblower delivers the reliable durability you would expect from the Craftsman name at a modest price point. With a 13-inch intake height, it can make quick work of deeper snow piles. The auger is designed to "hug" the ground, meaning it scrapes as close as possible to the surface so you won't leave a lot of snow in your wake.
High-quality construction
Compact size makes it easy to store
Chute adjustment is a manual process
Best Corded Electric Snowblower
Toro Power Curve 18-Inch 15-Amp Electric Snowblower
Key Specs
Model Number: 38381
Power Type: Corded electric
Clearing Width: 18 in.
Toro is known for producing durable, reliable tools and outdoor machinery, and this corded snowblower should live up to that reputation. You can clear even large spaces quickly, given that this machine can move up to 700 pounds of snow per minute. The Power Curve technology is designed to clean as close to the surface as possible.
Lightweight
Ergonomic handle
Relatively small clearing width
Best Bargain
Snow Joe Electric Snow Thrower
Key Specs
Model Number: SJ627E
Power Type: Corded electric
Clearing Width: 22 in.
This Snow Joe model delivers robust power comparable to that you might find with a moderately-priced gas snowblower but with the convenience of an electric machine. The all-steel auger can plow through heavy snow allowing this machine to dispatch up to 833 pounds of snow per minute.
25-foot throwing distance
Bright LED lights help when operating at night or on cloudy days
Heavy snow requires more exertion on the part of the operator
Easy to Move
PowerSmart 18-Inch Corded Electric Snow Blower
Key Specs
Model Number: DB5023
Power Type: Corded electric
Clearing Width: 18 in.
For a corded machine, this snowblower is remarkably powerful, throwing snow impressive distances of up to 35 feet. The compact tires and relatively low weight (under 45 pounds) make this snowblower easy to operate and maneuver. Some Amazon reviews noted that some of the plastic parts on this machine tend to become hard or brittle when in severely cold temperatures for extended periods.
Rubber blades won't damage surfaces
Compact design
Plastic parts can become brittle in cold temperatures
Plenty of Throwing Capability
PowerSmart 21-Inch Single-Stage Snowblower
Key Specs
Model Number: PSS1210M
Power Type: Gas
Clearing Width: 21 in.
Although it's one of the most affordable gas models on the market, this snowblower doesn't make you feel like you are missing out. The powerful 212cc engine gives this machine plenty of muscle, allowing it to propel even heavy snow at distance of up to 40 feet. Weighing in at more than 70 pounds, it is heftier and tougher to move than some of the more lightweight models.
Clears snow up to 12.5 inches deep
Foldable handle for convenient storage
Variable Speed Control
Ego Power+ Snowblower with Peak Power
Key Specs
Model Number: SNT2100
Power Type: Cordless electric
Clearing Width: 21 in.
This machine can throw snow up to 35 feet so you can clear large spaces quickly. The variable speed control lets you adjust the operation as conditions dictate and according to your comfort level. It doesn't come with the necessary 5-amp-hour battery and charger, so you will need to purchase those separately unless you already have a compatible set.
Handle folds up for compact storage
LED headlights for better visibility
Doesn't include a battery or charger
Quiet Operation
Earthwise 18-Inch 40V 4-Ah Lithium Snow Thrower
Key Specs
Model Number: SN74018
Power Type: Cordless electric
Clearing Width: 18 in.
The Earthwise brand is owned by American Lawn Mower Co., which has a long legacy in the industry, producing tools and yard equipment for more than 125 years. Able to cut through snow up to one foot deep in one pass, it can move up to 500 pounds of snow per minute. At under 35 pounds, it's easy to maneuver without breaking a sweat, too.
Lightweight
Built-in LEDs for extra visbility
Relatively narrow clearing width
Designed for Pavement
Ariens S18 Single Stage
Key Specs
Model Number: 938026
Power Type: Gas
Clearing Width: 18 in.
Lowe's customers gave this machine high marks for performance and durability but noted that it works best with fresh, lighter snow (on account of the rubber augur). The one-pull start dependably ignites the motor so you can get to work quickly. At just over 60 pounds, it's heavier than electric models but still lighter than some gas machines.
Not best for heavy, compacted snow
This content is created and maintained by a third party, and imported onto this page to help users provide their email addresses. You may be able to find more information about this and similar content at piano.io
Advertisement – Continue Reading Below
https://www.popularmechanics.com/home/lawn-garden/g39075921/best-cheap-snow-blowers/