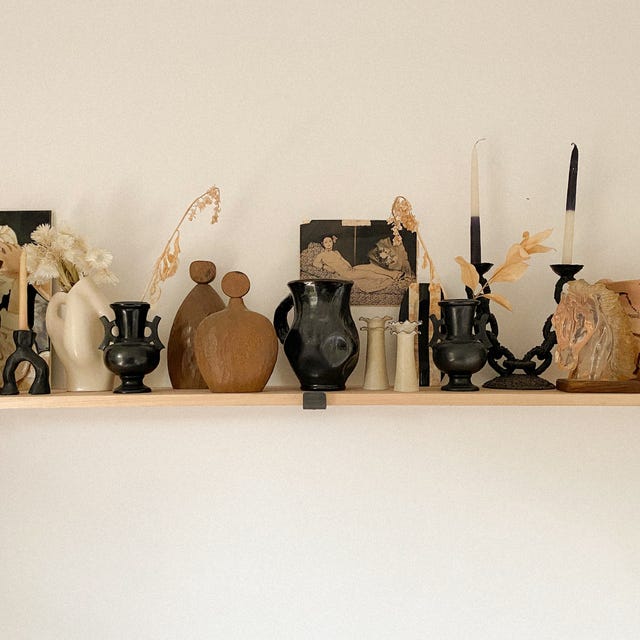 Courtesy of brand
Our vintage obsession stretches farther than our wardrobes because yes, 'fast interiors' are a thing too.
Stop your space looking like everyone else's and engage in circular shopping with some well-placed second hand, antique and vintage homeware all done from the comfort of your own sofa with some online shopping (we're not all ones for trawling car boots and auction houses).
If you already know what you are looking for, be it a specific mid-century designer or thrifty up-cycling project, look to eBay, Etsy and 1st Dibs and search their vast marketplaces.
SHOP ETSY NOW SHOP EBAY NOW SHOP 1ST DIBS NOW
But if a more curated experience appeals, look to our list of the 21 best vintage homeware and furniture online stores now.
Our top tips for buying homeware and furniture online:
Measure, measure and measure again. Imagery and your imagination can play tricks on you, so ensure pieces fit and work well in the space ahead of time by measuring.
Ask away. These dealers are used to questions, and should know a lot more than you do about any given object, so feel free to ask about quality, history and return policy ahead of time.
Think creatively. Interiors are made only better with considered risks, be it clashing bold colours or using unexpected items for new practical uses.
Advertisement – Continue Reading Below
1
Zebra Homeware
'Our mission is to source vintage homeware items and decorative antiques that complement modern homes and period properties,' owner Rachel McKenna explained.
SHOP ZEBRA HOMEWARE NOW
2
Pine & Treasure
'Pine & Treasure aims to promote conscious consumerism and sustainable style not just through clothing, but through beautiful, unique treasures for your home too.
'With very affordable prices and many items starting from as low as £10, Pine & Treasure makes second hand shopping for homeware and furniture accessible to a wide and frugal audience,' owner Katie Anderson told ELLE UK.
4
Williamson Adams
'I set up Williamson Adams in memory of my grandmothers Elizabeth Williamson and Kathryn Adams. One the daughter of an auction house runner and the other a dealer herself, both in very male dominated worlds,' owner Helen Gilchrist told us.
'My concept is to source mid century modern and unusually crafted antiques.'
8
Ourika London
'Recently launched rug company Ourika curates a unique collection of beautiful one of a kind antique and vintage rugs sourced from around the world,' Ourika told ELLE UK.
'Founded by Katie Loweth, the East London brand focuses on carefully selected one off finds which are released in regular drops online. Expect to find handwoven Persian and Moroccan rugs made from all natural materials which are chosen for their quality, beauty and craftsmanship. Committed to sustainability and sourcing timeless old pieces over buying new, Ourika rugs come with a story, plenty of character and just the right amount of wear.'
9
The Antik Store
'The Antik Store aspires to inject a piece of luxury into the every day, filling your home and wardrobe with unique, one of a kind pieces, making it more accessible for everyone to shop for second hand items for your home and wardrobe,' Georgia Ranrup, owner of Folkestone-based Antik, told ELLE UK.
'Every item that is chosen supports a small, independent supply chain of market sellers or charities. You can be happy knowing the money spent is not going towards growing a large corporate company but is being fed back into a small local community.'
10
Shop Wallis
'We want be part of the bigger picture in preventing furniture from going to waste by reusing, repurposing and restoring found pieces and objects,' owner Kat Pottages explained.
'We provide affordable and unique, vintage and antique items for every home and every budget.'
12
Pato Interiors
'Pato Interiors is an online shop selling antique furniture. I find mostly pieces dating from the 18th or 19th centuries but it's not a hard and fast rule', owner Katherine Westmacott explained.
'The key thing for me is craftsmanship, I like things that are built to last as well as look good.
'I am a firm believer that just because an item is used for a practical purpose it doesn't have to be boring and mass produced; antique plate racks make beautiful towel rails for example.'
15
Modern Room
'Modern Room sells 20th century furniture, lighting, art and objects from design classics to anonymous one-off pieces,' the Modern Room team told ELLE UK.
'Owner Ben Joyner has over 20 years experience of sourcing vintage design from around the globe and has a particular love for British postwar design, modernist plywood furniture and midcentury lighting.'
16
Shop Mantel
'Mantel is a curated selection of one off vintage design objects for the home,' the team at Mantel said.
'Each piece has been hand selected for its distinctive, unusual and timeless design. We aim to strike a balance between decorative and functional pieces, many of which will enhance your mantelpiece as well as fulfilling a purpose.'
18
John Cornall Antiques
'John Cornall Antiques is a small family run business who some regard as the leading UK stockist of quality antique and vintage painted furniture, country furniture, folk and primitive art, fine art and decorative items,' the team told us.
19
Scout Goods
'I've always been obsessed with treasure hunting, scouring car boots, antique sales and second hand shops for gems, but there were always far too many good finds to keep,' Scout Goods curator Daisy Payne said.
'I really love the history each item keeps, the story it holds, and the journey its been on.'
20
Perfect English Stuff
'Inspired by my late granny, an antique dealer, and run with my mother, a writer on design and interiors, we recycle beauty by selling decorative antique and vintage stuff for the stylish home,' Elizabeth Kemp explained.
'Favourite stock items include candlesticks, majolica leaf plates, and early 19th century hand-painted china. You will also find pictures, including pressed seaweed and oak leaf wreaths, unusual pottery, glass, and textiles. '
This content is created and maintained by a third party, and imported onto this page to help users provide their email addresses. You may be able to find more information about this and similar content at piano.io
Advertisement – Continue Reading Below

https://www.elle.com/uk/life-and-culture/g38077176/vintage-interior-furniture-store-online/