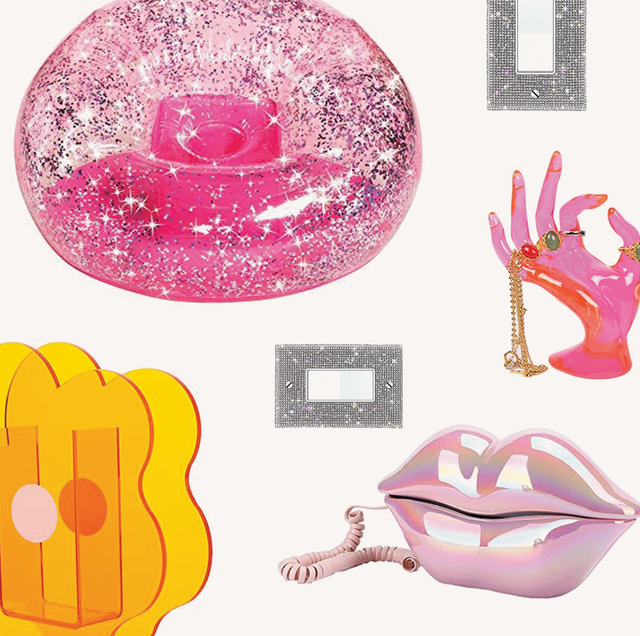 Courtesy
As a person with a #BigGirlJob, a majority of my finances should probably be stowed away in a savings account or perhaps invested in some really nice furniture. But as we all know, things take time! Patience! Knowledge! And so, if I want my home to be reminiscent of someone who watched a buttload of MTV's TRL in the early 2000s, can you blame me? It had allll the best reality TV shows, too many top-tier rom-coms to count, and (best of all) the elite home decor.
Sure, maybe now cheetah print mixed with hot pink could be seen as… a lot. But you have to admit some of its iconic design trends would fit in perfectly with all the ones we hold near and dear now. I'm talking ultra plush bean bags, psychedelic lava lamps, and iridescent side tables (just to name a few).
Thanks to Amazon, I can live out my Y2K dreams in just a few clicks. Ahead, we found the cutest, best Y2K home decor finds on Amazon that might just leave you with a buttload of DMs, asking where you copped that. (Apologies in advance! But also, you're welcome.)
Advertisement – Continue Reading Below
1
This Sparkly Seat
Pink Glitter Inflatable Lounge Chair
3C4G THREE CHEERS FOR GIRLS
Pre-teen me would've freaked out if I owned this, and mid-20s me will freak out if I don't own this. I guess things never change, huh.
2
This Adorable Vase
Acrylic Flower Vase
That bouquet from the farmer's market is going to look oh so cute in this. For that price, I'm going to buy two!
3
This Psychedelic Lava Lamp
16-Inch Liquid Lamp
Reintroducing the OG of mood lighting—the lava lamp. If it's been trendy for this long, you can expect it to stick around for years to come.
4
this lil speaker
Ditoo Retro Pixel Art Game Bluetooth Speaker
This Bluetooth Speaker doubles as an art piece (and yes, you can customize the pixel art!).
5
This Iridescent Table
Acrylic Table
How good would just about anything look on top of this side table? And don't forget an aesthetically pleasing stack of books!
6
This Initial Light
Metal Light Up Letter
Add some pizzazz to your vanity or bookshelf with this light-up marquee letter. If your taste leans more on the minimalist side, it also comes in white!
7
this cute candle
Realm Artisan Hand-Poured Scented Candle
A room without a lit candle? A travesty! This candle has notes of patchouli and pear, a perfect combination for those who love a smokey yet fun scent.
8
This Circle Rug
Fun Time Shape Area Rug, 31″ x 51″
This rug practically screams Lizzie McGuire, no?
9
This Beaded Curtain
Blue Iridescent Beaded Curtain
In this home, we're all for making an entrance (or exit), and a beaded curtain adds just the right amount of dramatic flair to accomplish that.
10
This Jewelry Holder
Hand Jewelry Display
Bling hive, rise!! All your best and boldest baubles deserve to be shown off, and who's better to do it than this plastic hand display?
11
This Retro Disco Ball
8″ Disco Ball with Hanging Ring
While your next at-home disco party could use this bad boy, might I also suggest setting it up by your window? When golden hour hits, you're going to get a light show. Naturally, you'll want to post that all over your IG story.
12
This Lip Phone
Lip Telephone
Sure, we live in the world of cell phones now but having this lip phone displayed on your bookshelf or bedside table would be I-C-O-N-I-C.
13
This Super Soft Chair
Milano Shag Ivory Bean Bag
This is def one of those chairs that, when you sit in it, you'll never want to leave. That fuzzy material looks EXTRA inviting.
14
This Fun Frame
Jewel Picture Frame
Isaac Jacobs International
That picture of you and your crew is gonna look real good in this bejeweled frame. Plus, it comes in seven other colors if you want to give one to everyone in your squad.
15
This Decorative Pillow
Daisy Pillow
Spring is practically here! Therefore, this super adorable flower plush is just what ya need to dress up your space for the sunny season.
16
These Multicolored Glasses
Rainbow Glass (Set of Four)
I'm a simple person. If I see a set of unbreakable glasses in an array of pastel colors, they're going to be added to my shopping cart ASAP!
17
This Glittery Light Switch Cover
Rhinestone Wall Plate Cover
Just bite the bullet already and get yourself a blinged-out wall plate cover!!! The material girl in you is practically weak in the knees.
This content is created and maintained by a third party, and imported onto this page to help users provide their email addresses. You may be able to find more information about this and similar content at piano.io
Advertisement – Continue Reading Below
https://www.cosmopolitan.com/lifestyle/g38961292/y2k-home-decor-amazon/